Preparing tax returns doesn't have to be complicated, intimidating or all that time consuming.
And getting help can be free.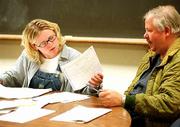 "The tax system, unfortunately, is extraordinarily complicated," said Ross Hirst, a Topeka-based IRS agent. "But there is help out there of various types."
Several groups are organizing self-help, advisory and preparation-assistance programs for individual filers and small businesses in the Lawrence area.
The tax-filing deadline is April 16, now 10 weeks away.
Among the programs available:
Free help: An army of volunteer tax preparers has been trained by the IRS to help low-income, elderly, disabled and non-English speaking people file their taxes. Others with relatively simple returns may seek help on a space-available basis, Hirst said.
The Volunteer Income Tax Assistance (VITA) service is available through April 15 at various times and locations in the area. Clients should bring identification, tax forms (including W-2s and 1099s), last year's tax returns and other relevant information.
The schedule:
Mondays: 2:30 p.m. to 5 p.m. at Kansas University Law School, Green Hall.
Tuesdays: 9 a.m. to 11 a.m. and 1 p.m. to 3 p.m. at Penn House, 1035 Pa.
Wednesdays: 3 p.m. to 5 p.m. at Salvation Army, 946 N.H.; 4 p.m. to 7 p.m. (e-filing) at KU Law School, Green Hall.
http://www.irs.gov
Thursdays: 3 p.m. to 5 p.m. at Ballard Center, 708 Elm St.; 5 p.m. to 7 p.m. at Resident Services office, 1600 Haskell Ave., No. 169.
Saturdays: 9 a.m. to noon (non-resident filers) at KU Law School, Green Hall.
AARP and the IRS also are sponsoring help for low- and moderate-income taxpayers who are at least 60 years old.
Volunteers are available to help people prepare returns from 1 p.m. to 4 p.m. Tuesdays and Thursdays through April 12 at Douglas County Senior Services, 745 Vt.
Small business: Owners of small businesses can take advantage of a workshop that addresses how to withhold income taxes and collect and submit sales taxes. The workshop is set for 4 p.m. to 7 p.m. Thursday at 734 Vt., and is sponsored by KU's Small Business Development Center.
"This session can be very helpful for small business owners who are short on time and need straight-forward guidance on when, how and where to file taxes," said Randee Brady, the center's director.
For more information, contact the center at 843-8844.
Federal input: Hirst, an agent with more than 26 years of experience, is scheduled to speak at 7:30 p.m. Feb. 20 in the auditorium at the Lawrence Public Library, 707 Vt.
The longtime IRS agent will offer tips and answer questions about a variety of tax topics, including itemized deductions, exemptions, education credits and IRAs.
Copyright 2018 The Lawrence Journal-World. All rights reserved. This material may not be published, broadcast, rewritten or redistributed. We strive to uphold our values for every story published.