Boston — Antoine Walker was told to take as much time as he needed to grieve after his grandmother's funeral. The Boston Celtics captain decided the best therapy for his grief was to play basketball.
Missing just one day for the funeral, Walker returned Sunday and had 36 points and 11 rebounds to lead the Celtics to their sixth straight win, 103-82 over the Cleveland Cavaliers.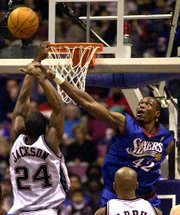 "Obviously, my first thought was with my family," Walker said. "My grandmother was very special, but for three hours I had to focus on basketball."
Paul Pierce added 22 points for the Celtics. Walker also had eight assists before leaving the game with 5:44 left.
"(Walker) just went out there and did his job like nothing ever happened," Pierce said. "When he gets between those lines on the basketball court, he's able to clear his mind and not worry about what's going on off the court."
Andre Miller scored 17 points, and Clarence Weatherspoon had 14 rebounds for the Cavaliers.
Walker had 19 points in the third quarter, scoring every point in a 10-0 Celtics run. He hit a three-pointer, followed it with a steal and then finished the fast break with a layup to give Boston an 80-55 lead with 3:56 left in the third.
Then, when he was taken out for a breather, he went to the bench pointing skyward as the Boston fans, who have not always been kind to him, gave him a warm ovation.
"I think the people of Boston have a pretty good idea of who Antoine Walker is at this point," Celtics coach Jim O'Brien said. "I'm still disappointed a guy of his caliber isn't on the All-Star team."
Lakers 100, Kings 94
Los Angeles Kobe Bryant, his shooting touch off, still scored 26 points and added 11 rebounds to lead the Los Angeles Lakers past the Sacramento Kings. Winning for the third time in five games since Shaquille O'Neal went out with a foot injury, the defending NBA champion Lakers pulled within two games of the Pacific Division-leading Kings, who have been the best in the West this season. Bryant was just 8-of-26 from the floor. But he made 10 of his 11 free throws.
Suns 85, Hornets 82
Phoenix Tom Gugliotta had his best game since major reconstructive knee surgery, and Jason Kidd scored seven points in the last 21/2 minutes as the Phoenix Suns beat the Charlotte Hornets.
Gugliotta had 10 points and 11 rebounds. His breakaway stuff on a long pass from Kidd gave Phoenix an 80-74 lead.
It was Gugliotta's first double-digit rebound game since he had 14 against Dallas last March 4, six days before he was injured.
Kidd, who made just two of his first 10 shots, sank a 22-footer to give the Suns the lead for good, 76-74 with 2:29 to play.
Charlotte's Baron Davis and Jamal Mashburn each made only one of two free throws for the Hornets in the final 1:04.
Still, the Hornets were down only 83-80 after Kidd made one of two free throws with 13.2 seconds to play. But Davis missed a driving layup, and Tony Delk clinched the victory with two free throws with 4.7 seconds left.
Delk and Rodney Rogers each scored 16 as the Phoenix reserves outscored their Charlotte counterparts 32-16.
Cliff Robinson added 15 points, and Shawn Marion had 14 points for the Suns.
Nets 96, 76ers 89
East Rutherford, N.J. Stephon Marbury scored 34 points and Kenyon Martin and Keith Van Horn added 20 apiece for New Jersey, which snapped a seven-game losing streak and beat a team with a winning record for the first time since Dec. 10. The Nets outscored Philadelphia 34-17 in the fourth quarter and handed the 76ers their sixth road loss of the season. Allen Iverson scored 32 for the Sixers, but only two in the fourth quarter.
Knicks 103, Heat 100, OT
Miami Glen Rice scored 29 points as New York won a wild overtime game. Rice, who began his career with Miami, hit 10 of 15 shots and was perfect from three-point range (4-for-4) and from the free-throw line (5-for-5). Miami's Eddie Jones missed a pair of free throws in the final minute of regulation, Bruce Bowen missed the first of two free throws that could have tied the game in overtime, and Eddie House missed a wide-open three-pointer as time expired.
Copyright 2018 The Associated Press. All rights reserved. This material may not be published, broadcast, rewritten or redistributed. We strive to uphold our values for every story published.