After suffering spinal cord and brain injuries in a motorcycle wreck, Lawrence resident Bob Kania spent nine years in various nursing homes in northeast Kansas.
"It wasn't hell, but I could see it from there," Kania said of his life back then.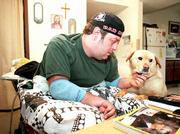 His days were spent on his stomach on a gurney because of the severity of his bed sores.
But then in 1996, Kania underwent intensive rehabilitation through a state-federal program, which also provided him with a handicapped-accessible apartment.
"I am independent," Kania said. "At the nursing home, the only right I had was the right to remain silent."
Advocates for what is called the head injury waiver program point to Kania and others when arguing for more funding.
Currently there is a two-year waiting list for admission into the program. Under Gov. Bill Graves' budget proposal, the waiting list only would get longer.
The waiting list is inhumane and fiscally unsound, said Janet Williams, an associate professor at Kansas University's Medical Center and a board member of The Brain Injury Association of Kansas and Greater Kansas City.
"The two-year wait only adds to the damage done at the time of the initial injury because early intervention is one of the most important factors in successful rehabilitation after head injury," she said.
Some Kansans, she said, are "languishing" in nursing homes and prisons while waiting for help.
Kansas was the first state in the nation to provide the waiver program for people with head injuries, usually suffered in vehicle wrecks or from gunshot wounds.
The waiver applies to low-income Kansans and allows them to seek home-based treatment rather than being placed in a nursing home or other institutional setting.
Currently in Kansas, there are 90 people in the head injury waiver program and 118 people on the waiting list.
Graves' budget proposal would increase funding for larger waiver programs designed to help elderly, and physically and mentally disabled Kansans.
But funding for the head injury waiver program would remain the same $5.1 million in total funding, with Kansas footing $2 million of the bill.
Williams said an additional $2 million in state funds would attract enough federal dollars to eliminate the waiting list.
Don Brown, a spokesman for Graves, said the governor believes his proposal to increase funds for the physically disabled waiver program indirectly will help those in transition from the head injury waiver program.
Brown said there is not enough money in the budget to tend to every need. He added that no one would be denied treatment. Rather, those who specifically request home-based treatment would remain on the waiting list.
But Williams said that maintaining a waiting list will cost more in the long run. Nursing home care is more expensive than treatment given in a home-type structure, she said.
"We can spend the money appropriately for early rehabilitation or forever for institutional care," she said.
Copyright 2018 The Lawrence Journal-World. All rights reserved. This material may not be published, broadcast, rewritten or redistributed. We strive to uphold our values for every story published.