You wake up in the middle of the night and find yourself lying in a tent somewhere in the woods. It's 20 degrees. You get up, step outside and see light snow falling.
For Scott Hoober, that's like heaven.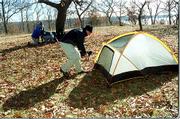 "It's so silent and so neat," Hoober said, describing one of the reasons he loves winter camping.
Steve Abbott also prefers camping when there is chill in the air.
"There are no bugs," he said. "I like the solitude, and there are not a lot of people around. I like the bareness of the land. It seems to bring you closer to nature. It's also a little bit of a challenge."
Hoober, 57, Overland Park, and Abbott, 63, Lawrence, are members of the Kansas Sierra Club. Hoober organizes the club's camping and hiking trips, one of which was held last month at Perry Lake. He operates his own public relations business and occasionally returns to the lake with friends to camp out on weekends.
Abbott, an Overland Park optometrist, makes several trips to Colorado each year to camp and hike.
Dan Affalter, a lieutenant with the Lawrence Police Department, has been an outdoorsman all of his life. A Boy Scout leader with Troop No. 55 of West Side Presbyterian Church, he is passing on his knowledge to younger generations about how to survive in the wilderness and have a good time doing it.
The Scouts routinely go on camping trips during the winter in Kansas and elsewhere.
"Most of them seem to like it," Affalter said. "We don't put them at risk. I know I'd rather be cold and warm up than hot and try to cool down."
At Lawrence outdoor sports stores, there always has been a special interest in winter camping, hiking and skiing gear, said employees of some of these stores.
"There's not a huge number of winter campers but it's a dedicated group," said Dan Hughes, general manager at Sunflower Outdoor and Bike Shop, 802-804 Mass.
At Backwoods, 916 Mass., interest in winter gear includes not only camping, but also extends to climbing boots and equipment for students heading to Colorado, employee Alicia Vorba said.
The number of winter campers has grown in recent years, she said.
"I think there is just a big interest right now in our culture for athletics," Vorba said.
Hughes, Vorba and others say it isn't expensive to get started in the activity. Costs can range from $200 to $1,000 or more for top-of-the-line gear. Sierra Club members say that people who are reluctant to buy equipment because they aren't sure they will like cold-weather camping can rent some.
Beginners should seek professional advice on the right kind of boots and clothing so that the experience won't be miserable or dangerous, they said. Campers should dress in layers that can be added or shed as weather dictates. Also, they should avoid material made of cotton in favor of polypropylene, which wicks perspiration away from the body. In addition, campers always should take a waterproof poncho in case of rain.
"I have no illusions about being a Kit Carson," Hoober said. "He didn't have all the stuff we have available to us now."
Having the right equipment and preparing for an outing are the keys to making it bearable and enjoyable, said Affalter, who has been camping in weather when temperatures were near zero.
"I've always said a bad day outdoors is better than a good day indoors," he said.
Copyright 2018 The Lawrence Journal-World. All rights reserved. This material may not be published, broadcast, rewritten or redistributed. We strive to uphold our values for every story published.