Denver — It was the worst day ever for goalies in a setting that is never good for the men in the nets.
The usually high-scoring NHL All-Star game outdid itself in its 51st edition as the North America team beat the World squad 14-12 Sunday.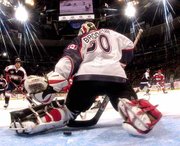 "I know it's hard to believe in a game like this, but I made some great saves," said Martin Brodeur, the winning goalie despite allowing five third-period goals. "It was exhausting out there for a goalie. Once a year for this is enough."
Bill Guerin had three goals and added two assists to win the MVP award. He joined Tony Amonte and Doug Weight on a U.S. line that combined for six goals and seven assists.
"It's still kind of shocking to me, but it's been great," said Guerin, an All-Star rookie at 30. "I didn't expect this. I just wanted to come and have a good time."
The effort overshadowed the anticipated return of Mario Lemieux to the All-Star game. Lemieux had a goal and an assist in his ninth appearance at the event.
Alexei Kovalev brought the World to 12-11 with 5:32 left and snapped the combined record of 22 goals in 1993.
The game was the third penalty-free All-Star game. Last year's 9-4 contest won by the World team had one. In the first three years of the North America against the World format, an average of 14 goals were scored.
"This is the All-Star game, people don't expect a 4-2 or 4-1 game," said Patrick Roy, North America's most-effective goalie allowing only three goals.
Lemieux returned to the Pittsburgh Penguins, the team he owns, in late December after a 31/2-year retirement. The 35-year-old center, a three-time All-Star MVP, gave North America a 5-4 lead in the second period with his 12th career All-Star goal.
Lemieux assisted on the first of two goals by Simon Gagne.
Copyright 2018 The Associated Press. All rights reserved. This material may not be published, broadcast, rewritten or redistributed. We strive to uphold our values for every story published.