Topeka — Gov. Bill Graves wants a change to the state campaign finance law that would let him use his campaign funds to pay for his wife's travel in certain circumstances.
Currently, when Linda Graves travels on behalf of the state, she is reimbursed by the state. But, if she travels to a partisan event, the expenses are out-of-pocket.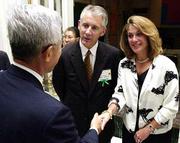 Graves would like to be able to pay for his wife's travel to partisan events with his campaign contributions.
Campaign funds can be used only to pay for campaigning and the expenses of holding political office.
Graves says the expense of holding political office should be broadened to include the costs of a spouse appearing on behalf of or with the governor "to promote the governor's legislative or political agenda."
The issue came up last spring when Graves and his wife attended a Republican governor's conference.
The Kansas Governmental Ethics Commission told Graves he couldn't use campaign funds to pay for his wife's travel expenses.
Graves' proposed change is being considered by the Senate Elections and Local Government Committee.
Natalie Haag, chief legal counsel to Graves, told the committee that "the Republican governor's events are excellent avenues to coordinate the multistate work of first spouses."
Copyright 2018 The Lawrence Journal-World. All rights reserved. This material may not be published, broadcast, rewritten or redistributed. We strive to uphold our values for every story published.