HONOLULU — Rich Gannon got a lot accomplished in a short amount of time at Sunday's Pro Bowl.
Still recovering from a separated left shoulder that limited him to the game's first two series, Gannon passed for 160 yards and two touchdowns to get the AFC off to a superb start in a 38-17 victory over the NFC.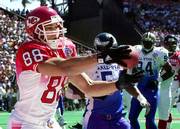 It was enough to earn player of the game honors for the 35-year-old veteran playing in his second straight Pro Bowl after languishing as a backup for most of his first 11 NFL seasons.
Afterward, the man who led the Oakland Raiders to their best season in 10 years credited his AFC teammates.
"I was trying to put the ball in these guys' hands and let them make the plays," Gannon said. "These guys are incredible, you feel like you're driving a Ferrari. I feel like a kid in a candy store today, it's just amazing."
By winning for the fourth time in the last five Pro Bowls, the AFC trimmed the NFC's lead to 16-15 since the game went to its present format in 1971.
The AFC scored the first three times it had the ball on Gannon's two scoring passes and a 29-yard field goal by Ravens kicker Matt Stover, and led by at least two touchdowns the rest of the way.
Less than two minutes into the second quarter, the AFC had 14 first downs and 231 yards of total offense to no first downs and six yards for the NFC.
Gannon was playing for the first time since Oakland's 16-3 loss to Baltimore on Jan. 14 in the AFC championship game, when he separated his non-throwing shoulder on a hit by Tony Siragusa. The quarterback completed his first eight passes and was 12-of-14 before taking a seat in favor of Peyton Manning, who also threw two touchdown passes.
"It's OK, and getting better," Gannon said of his shoulder. "It's still not 100 percent healthy, but I was able to get out of there today without getting slammed. So that's important."
Raiders coach Jon Gruden, who coached the AFC, said he wasn't about to take any chances with his quarterback.
"The guy had a serious injury, he rehabilitated it extremely hard," Gruden said. "He wanted to be here and he wanted to play."
Gannon, a former Kansas City Chief, capped an 87-yard, nine-play drive following the opening kickoff by throwing an 8-yard scoring pass to Chiefs tight end Tony Gonzalez.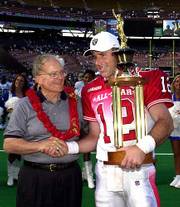 Following a punt, Gannon directed his team 90 yards in 10 plays, capping the drive with a 16-yard scoring pass to Marvin Harrison, who had eight catches for 84 yards and two touchdowns.
"He was putting the ball in the perfect spot for all of us," said Gonzalez, who had six receptions for 108 yards all in the first half. "Me and Rich played together for two years, so it's kind of old hat for us. He knows my moves, I know his moves, so it makes it a lot easier."
NFC coach Dennis Green said it took a while for the NFC to get into rhythm on defense, and his team hurt itself by dropping several passes.
"They got up on us because they were very sharp," he said. "Gannon really worked the tight end. We're kind of young, they had the experience."
Former Kansas State standout Martin Gramatica kicked a 48-yard field goal early in the second quarter to cut the AFC's lead to 17-3. The AFC took a three-touchdown lead on a 2-yard pass from Manning to Jimmy Smith with 54 seconds left in the half. Smith, who caught three touchdown passes in last year's game, has scored a Pro Bowl career record five TDs.
Donovan McNabb started the third quarter by completing three passes for 58 yards, including a 17-yarder to Terrell Owens for the NFC's first touchdown.
The NFC then tried an onside kick, but it didn't work, and Manning, who completed 16 of 22 passes for 150 yards, threw a 24-yard scoring pass to Indianapolis teammate Harrison to cap a 36-yard, five-play drive and make it 31-10.
Daunte Culpepper, who completed just two of nine passes for 11 yards with one interception in the first half, threw a 20-yard touchdown pass to Torry Holt with 3:22 left in the third period to draw the NFC within 14 points.
On its next possession, the NFC failed on a fourth-and-1 play at its 44, and Edgerrin James ran 20 yards for the game-clinching touchdown three plays later, making it 38-17 with 11:19 remaining.
Kansas City's Elvis Grbac, the No. 3 AFC quarterback, completed four of six passes for 59 yards, giving his team a Pro Bowl record-tying 32 completions in 42 attempts for 369 yards.
The game was played before a crowd of 50,128 at Aloha Stadium, the 22nd straight sellout since the game moved to Honolulu in 1979.
AFC players each earned $30,000, NFC players $15,000.
Notes: The temperature at kickoff time was 79 degrees. ... The NFC had 26 first-time Pro Bowlers and the AFC 16. ... Among the NFC starters was guard Randall McDaniel, who played in his 12th Pro Bowl, breaking the record he shared with Reggie White. McDaniel also made his 12th straight start 11 with the Vikings, and this year as member of the Buccaneers. ... One of the AFC starters was defensive end Trace Armstrong, a 12-year veteran playing in his first Pro Bowl. ... Broncos wide receiver Rod Smith didn't play after spraining his shoulder in the first quarter. ... The NFC attempted a Pro Bowl record 56 passes; the old mark was 55, by the NFC in 1993. ... The teams combined for 98 passing attempts, four more than the previous record, set in 1983.
Copyright 2018 The Associated Press. All rights reserved. This material may not be published, broadcast, rewritten or redistributed. We strive to uphold our values for every story published.