If hard work on behalf of others is a ticket through the pearly gates, Reathyl Brummett has her passport stamped.
"I think she's easily worked her way into heaven," said Allyson Leland, volunteer supervisor at Lawrence Memorial Hospital. "We've had people who've put in more years than Reathyl, but no one can touch her in terms of hours."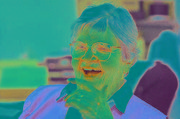 In the past 11 years, Brummett, 80, has logged about 19,500 volunteer hours at LMH's dietary department, Leland said. That's more than 34 hours per week, on average.
"That's consistently 700 to 800 hours more than anyone else," Leland said. "Reathyl's part of the fabric of the hospital. She represents a lot of what LMH is all about."
Brummett, one of about 300 hospital volunteers, said clocking in every day at 6:30 a.m. isn't a hardship for her. She did it every workday for 15 years as a full-time LMH employee. And she has continued to do so nearly every day since she retired almost 11 years ago.
"It's my way of feeling useful," Brummett said. "If I stayed at home, I'd still be doing things, so I might as well putter around at the hospital. I've always worked, so I don't want to be idle. And I knew I didn't want to sit at home and talk to myself."
From March 1975 to April 1990, Brummett worked as a purchasing assistant at LMH. She retired on a Friday, took six days of vacation, and then returned to work the next Friday as a volunteer, checking invoices, counting money and recording inventory in the dietary division, but also doing "whatever needs to be done," she said.
"I'll help whoever needs a helping hand," she said. "A lot of times at the hospital, things happen rush-rush, so if I can pick up things that have to be set aside, I'm more than happy to do that."
Brummett does her work quietly, eschewing accolades, Leland said.
"She's very much a behind-the-scenes type of gal," she said. "She doesn't ask for any glory. She's in a class by herself."
She also has played piano for Holiday Hills Church of the Nazarene, 10th Street and Kasold Drive, since 1957. She learned how to play her mother's pump organ when she was 8 years old.
Brummett "had and still does have a lot of energy and is interested in people," said Harold Siegrist, who worked as a switchboard operator at LMH admissions for about 17 years.
Siegrist, who with his wife, Mary, also hears Brummett play at Holiday Hills Church, said Brummett was conscientious and dependable when they worked together.
"She's a very fine person," Siegrist said.
Brummett marked her 80th birthday Jan. 18, a day after the 80th anniversary celebration of the founding of LMH. Co-workers joked that she predated the hospital, but she shrugged off implications that she's "old."
"When it finally hit me that I was going to be 80, I said, 'This is foolishness,'" she said. "Life's too short to feel sad or worry about things. I don't want to be that way."
Brummett said her dedication to LMH sprang from values instilled in her at an early age.
When she was young, her aunt gave her a keepsake cabinet for storing small valuables. It held a small story about children picking blueberries. As the story goes, the children would rush back and forth to bushes upon which they found plentiful berries, picking from one and then running to another with even more berries.
"But my father always told me to stick to my own bush," Brummett said. "Stay where you are and stick with things. That's how I was brought up. I feel responsible for what I do, and I'm proud to have done it for this long."
Copyright 2018 The Lawrence Journal-World. All rights reserved. This material may not be published, broadcast, rewritten or redistributed. We strive to uphold our values for every story published.