SACRAMENTO, CALIF. — When prosecutor Brian Meyers wanted to make a point to a jury in a murder trial, he didn't pound the table he clicked a mouse.
In a darkened courtroom, Meyers argued his case that a drunken driver should be convicted of murder, his voice rising and falling as he clicked on a PowerPoint presentation projected onto a large screen facing the jury box.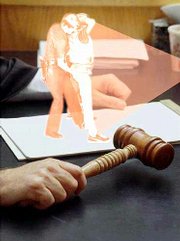 The text on the screen summarized the prosecution's case against the accused, in which two people died. And hammering home the argument were horrific photos of two wrecked cars.
Like a growing number of lawyers nationwide, Meyers, a Sacramento County deputy district attorney, comes to court armed with more than legal briefs and rhetoric. He uses a laptop computer to hold reams of electronic documents, PowerPoint visual presentations and anything else that could legally sway the jury.
Indeed, during the past five years, the legal profession has gone seriously digital. From storing videotaped depositions on CD-ROMs for quick playback, to showing juries computer-animated re-creations of accidents, to searching reams of digitized documents for a key phrase or date, technology has taken a firm hold at law firms.
"I think it makes life much easier," said Mike Malecek, a deputy U.S. attorney in Sacramento and his office's computer and telecommunications coordinator. "It gives us more tools to present evidence in a much more lively fashion."
Efficient and persuasive
One law firm that has embraced technology is Sacramento-based Downey Brand Seymour & Rohwer. Every legal document the firm generates is stored on Downey Brand servers for quick access.
If the firm's lawyers are in court and need to see a crucial filing, they can connect via laptop to Downey Brand's computers and instantly search more than 500,000 documents.
If they want to send a complex contract to another law firm, they can zip it instantly by e-mail, saving reams of paper and days of delivery time.
If they want to show a small piece of evidence to a jury say a signature on a document or a serial number on a pistol they can project it onto television monitors rather than pass it around to each juror.
One of the most helpful developments, said Downey Brand partner James Nelson, is an electronic link from the court reporter to the lawyer.
As the court reporter records the testimony, it's automatically digitized and transmitted to the lawyer's laptop computer, eliminating the need to take detailed notes or get printed transcripts.
Malecek said playing snippets from videotaped depositions stored on CDs also is a persuasive tool.
Lawyers are even using computer-generated animations to explain complicated concepts to jurors, said Rhonda Cate Canby, another Downey Brand attorney.
"It could take three or four days of an expert's testimony to describe something that you can see (via an animation) in 30 seconds," Canby said.
Those are the sort of things that could end up saving litigants big money. It might be cheaper to commission a computer-generated exhibit than to pay an expert for three days of testimony.
And being able to electronically hunt through thousands of pages of documents might take 10 minutes of a paralegal's time, rather than two days of doing it manually.
But it's often only the biggest law firms or the wealthiest litigants who can afford such technology.
Doing a computer analysis and re-creation of an automobile crash can easily cost up to $10,000, said Roger McCarthy, whose company, Exponent Failure Analysis, does a thriving business in analyzing and re-creating car and plane accidents and other unfortunate occurrences via sophisticated computer technology.
Still, he said, it's a relative bargain.
"Ten years ago, we would have restaged the accident with a real car, and it would have cost at least $30,000," McCarthy said.
Presentation v. facts
Whether such evidence is then admitted into court is another question. Fred Galves, a professor at McGeorge School of Law in Sacramento, said there are still a number of judges who are reluctant to accept new technology.
Galves, who wrote an extensive article on the subject for the Harvard Journal of Law and Technology, said that the law in general is much more cautious than other areas and resists change especially the razzle-dazzle of technology.
"They want to make sure that jurors are not being misled by Disneying up the evidence," Galves said.
Many jurists are used to seeing testimony accompanied by flip charts and chalk boards, he said, and are uncomfortable with newer technology. They worry that a jury will think the presentation is actually what happened rather than a witness' opinion of what happened, Galves said.
"But that's like assuming jurors are so stupid that they can't distinguish the presentation from reality," Galves said. "But if they watch 'Star Wars,' they don't assume it's true."
Copyright 2018 The Lawrence Journal-World. All rights reserved. This material may not be published, broadcast, rewritten or redistributed. We strive to uphold our values for every story published.