Washington — It wasn't quite an invitation for Bill Clinton to take his sax on the road for a reported $250,000 fee but he was asked to put in an appearance at Italy's glitziest music festival.
Clinton was offered up to $250,000 to appear at this year's event, which runs from Feb. 26 to March 3, according to the Rome daily La Repubblica.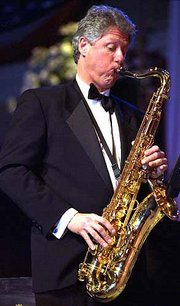 Given the impression in the Italian press that Clinton was being asked to play his saxophone and the former president's record speculation was rampant that he might take a musicial gig at the annual San Remo Song Festival in the seaside resort on the Italian Riviera.
However, a source familiar with the invitation said it was for Clinton to "make a few remarks" at the festival not play the sax. The source, who spoke on condition of anonymity, declined to discuss what fee was offered.
The source reported hours later that Clinton had decided to turn down the invitation.
The source said the invitation had been received just Friday and that no decision on whether to accept it had been made earlier Sunday when questions first arose.
Clinton most recently played the sax in public during a farewell presidential visit to New Hampshire in January. He blew a few riffs of "Louie Louie" with a high school band.
During the 1992 campaign, then-candidate Clinton donned dark sunglasses and played to the tune of "Heartbreak Hotel" on "The Arsenio Hall Show."
Copyright 2018 The Associated Press. All rights reserved. This material may not be published, broadcast, rewritten or redistributed. We strive to uphold our values for every story published.