I fondly remember my dad's 35mm slide shows.
First, my dad would try to see what was on the small slides so he could put them in some kind of order. Next he would drop the slides into a tray, hoping they would all drop in place which did not always happen. Then, I'd help him set up the projector and bulky screen. Finally, he would ask me to turn off all the room lights.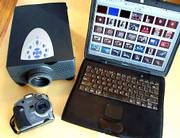 Seconds later, my family was transported to Venice or Istanbul or back in time to a fun family vacation.
Some of dad's slides, inevitably, had dust spots on them, others were accidentally placed in backwards. Occasionally, one or two slides would be upside-down. The shows, technically speaking, were not perfect. Still, seeing the big pictures on the screen was fun magic, back in 1962.
Slide shows have come a long way since I was a teen-ager. Today, the cool (as my son would say) way of giving a slide show has changed. Big time. Slide shows have gone digital, which means you can, indeed, create a picture-perfect slide show.
Several software programs, for PC and Windows computers, are available that let you create slide shows on your home or portable computer.
Kai's Power Show, for example, is a basic, very easy-to-use program that offers more than a dozen fun transitions between slides transitions that add pizazz to slide presentations.
Microsoft's Power Point is at the other end of the spectrum. It is a professional presentation program; you have more control of how your images are presented on the screen. You can make multi-image slides, complete with text and different color borders. Professional transitions between slides are a snap.
The first step in making a computer-generated slide presentation is to get your pictures into your computer. That's possible with a digital camera, a film or flat bed scanner, Picture CD or through an online photofinisher.
Once you have your pictures on your hard drive, you can use a computer imaging program, such as Adobe's Photoshop, Ulead Systems' Photo Impact, MGI's PowerSuite or Meta Creations' Painter Classic to clean up your images if they have dust spots, and turn them right side up if they were scanned poorly.
The next step is to "drop" your "slides" into your slide program. With some programs, that is a drag-and-drop procedure. With others, putting slides in order is done with a few clicks of a mouse.
Once the slide show is completed, it can and should be saved and shared on a CD or Zip.
Slide presentations, if done correctly, look cool on a computer monitor, or even on a television set. Picture-takers who are serious about giving slide shows, however, go one step further. They present their slide shows with a digital projector, which hooks up easily to a home or portable computer.
Most of my professional photographer friends show their work digitally. At photography meetings, if they were to show up with a tray of slides, they may get a funny look.
Digital projectors don't come cheap. They range in cost from about $3,000 to $6,000 many times more than 35mm projectors, which, by the way, still do a great job projecting slides.
Canon, CTX, InFocus, Polaroid and ViewSonic offer several digital projectors that are about the size of 35mm projectors. As the price increases, so does the quality and the brightness of the image, both of which are very important factors to consider when purchasing a digital projector.
In writing this column, I wonder what my young son, Marco, will say in 40 years, when he looks back on the digital slide shows I'm currently producing. At that time, slide shows will probably be projected holograms from Palm Pilots that double as a camera, but that technology already is here.
Copyright 2018 The Lawrence Journal-World. All rights reserved. This material may not be published, broadcast, rewritten or redistributed. We strive to uphold our values for every story published.