Suspense author Dean Koontz is an old hand at turning out best sellers. Like clockwork, he turns one out each year and he turns them in on time. Which is why he gave even himself a scare on his current thriller: For the first time in more than 30 years of writing novels full time, he missed his deadline to his publisher.
Koontz didn't finish "From the Corner of His Eye" until the end of September six months later than he intended and just three months before the book's arrival in bookstores.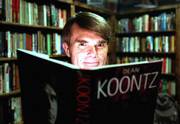 Typically, Koontz takes five to eight months to write a novel, but he says this one took "a year of 70-hour weeks" to write.
Not that Koontz's late manuscript delivery, caused by the book's complexity and the author's greater-than-normal amount of polishing and revising some 50 drafts of each page instead of as few as 30 had a negative impact on the final product's sales.
"From the Corner of His Eye" (Bantam, $26.95) shot to the No. 1 spot on three key national best-seller lists the New York Times, Wall Street Journal and Publishers Weekly after only four days of sales. The novel, which is set in California and Oregon, debuted at No. 1 on the Los Angeles Times best-seller list last month.
A complex plot
Koontz's tardiness in completing the 622-page novel has caused one problem, though: Now he's behind on writing his next thriller.
Playing catch-up on that novel, which he hopes to have finished by late spring, is the reason Koontz is doing minimal promotion for "From the Corner of His Eye."
Still, he is managing to squeeze in a lot: He's done several Internet chats and assorted newspaper and radio interviews. That's in addition to a series of morning drive-time radio interviews by phone from his home (22 one day; 26 another), and a 22-major-market satellite TV tour.
In all of his interviews for "From the Corner of His Eye," Koontz tries not to talk specifically about the plot of the novel, whose large cast of characters includes a homicidal villain named Junior and what Publishers Weekly calls "two psycho-spiritually gifted children and Thomas Vanadium, the magic-working priest-turned-cop who gets on Junior's case like a pit bull."
Koontz said the novel is not only his most complex but also has more surprises and twists than any he's ever written. It is so difficult to summarize the plot that Koontz and his editors have decided not to even try. "I'd like to, but anything I do will reduce it to something it isn't," Koontz said. When he talks about the book, it is about its theme rather than plot.
"The central theme of this is the amazing interconnectedness of all our lives and how a small act of kindness or meanness can echo through other lives and grow into a great act of courage or a great act of evil in the lives of other people that we may never know," he said.
Koontz said a secondary theme repeating throughout the book is the idea of "this momentous day," the notion "that each of us in our daily lives wastes a lot of time wishing for or daydreaming about that momentous day that will change our lives, that will bring us what we want. But, in fact, every day is a momentous day because every day contains the opportunity for us to change our lives and the lives of those around us."
Poetry on the Net
For fans who can't get enough of Koontz, he has something new on the horizon: his first e-book.
Barnes & Noble.com the first major retailer to start its own electronic publishing division recently announced that among its first titles available this spring will be a work by Koontz.
"The Book of Counted Sorrows" will be a collection of Koontz's poems that have appeared in 20 of his novels as epigraphs.
Koontz said he wrote the first poem about 20 years ago: Unable to find an appropriate piece of verse to use in one of his novels, he simply wrote one himself and attributed it to the nonexistent "The Book of Counted Sorrows."
Koontz said he receives about 3,000 letters a year from fans who are unaware that he wrote the poems and want to know where they can find "The Book of Counted Sorrows."
Although the poetry is serious, Koontz said, his tongue-in-cheek introductory essay for the electronic book will be "a humorous mythology that explains where all these poems came from. I purport to have found them in this mysterious book that everybody who has ever possessed meets some strange fate."
Although he views electronic publishing as an "interesting venue" for his poetry, Koontz has no plans to go digital with his fiction any time soon. While the market for electronic books remains unproven, the print market has proved itself many times over for Koontz: He's sold about 225 million copies of his 70-some books in 32 languages.
Copyright 2018 The Lawrence Journal-World. All rights reserved. This material may not be published, broadcast, rewritten or redistributed. We strive to uphold our values for every story published.