Anaheim, Calif. — When The Walt Disney Co. opened theme parks in years past, executives and investors held their breath and hoped for a hit.
Disneyland Paris opened in 1992 amid a recession. It also faced the scorn of Parisians who called it a "cultural Chernobyl." The park initially bled money and was on the verge of being one of Disney's greatest catastrophes.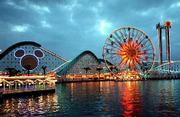 Since then, however, it has become one of the company's greatest triumphs so successful that a second park is under construction nearby.
No such risks are being taken with the latest park. Analysts said California Adventure which opens Thursday makes good use of already proven Disney concepts, incorporates the company's television and movie-making resources, and fulfills a desire to make the flagship Disneyland park more than a one-day visit.
"Disney has this down to a science and it's magical," said Jessica Reif-Cohen, an analyst with Merrill Lynch. "I think they are going to do very well with this park."
The economy is the wild card, with consumer confidence hitting a four-year low in January.
Lagging confidence, however, typically isn't felt by theme parks for about six months. Other factors that could hurt attendance include rising gasoline prices, uncertainty related to California's power crisis, and the park's unusually narrow theme.
But economic uncertainty actually could help, analysts said, because people might cancel expensive vacations abroad in favor of trips closer to home.
"Theme parks are pretty recession-proof," said Tim O'Brien, an editor at the trade publication Amusement Business. "There's nothing that's going to stop people, at least for the first year, from going out and seeing that park."
Analysts said one factor in Disney's favor is that the new park, while unique in its focus on California's history and natural wonders, recycles attractions found in other Disney parks.
"It's more of an extension of certain rides and concepts than huge, new, risky, untested themes," said Christopher Dixon, an analyst at UBS Warburg.
The Muppets 3D attraction in California Adventure's Hollywood Backlot section is the same ride found at Walt Disney World in Orlando, Fla. A Bug's Life, in the section on California's agriculture history, also comes from Orlando.
www.disneyland.com
Downtown Disney, a retail strip of restaurants and shops, is a part of the Florida park and features an ESPN Zone, a restaurant inspired by Disney's ESPN cable sports channel.
Inside the park, the ABC Soap Opera Bistro allows diners to eat in the emergency room of General Hospital or in the living room of the Chandlers' mansion from "All My Children." Disney owns the ABC Television network.
"What is most telling about California Adventure is that it is not a $5 billion park designed for 12 million people a year," Dixon said. "In the face of concerns about the economy, this strategy is expected to be much more successful."
The park, hotel and Downtown Disney cost the company $1.4 billion, with the park designed to handle about 7 million annually.
The new park's opening comes at a challenging financial time for the company. Disney warned investors last year that its first-quarter growth would be flat, in large part because of a slowdown in advertising revenue at ABC.
But its theme parks are highly successful. Last year, the top five amusement parks in North America were Disney's: Disneyland, and at Walt Disney World in Florida The Magic Kingdom, Epcot, Disney-MGM Studios and Disney's Animal Kingdom. The company also operated seven of the top 10 parks in the world.
Copyright 2017 The Lawrence Journal-World. All rights reserved. This material may not be published, broadcast, rewritten or redistributed. We strive to uphold our values for every story published.