Baldwin — Like many 8-year-olds, Jody Guy has had his fair share of runny noses.
But what started out as the sniffles around Halloween later turned into news that his mother, Rita, wasn't expecting to hear.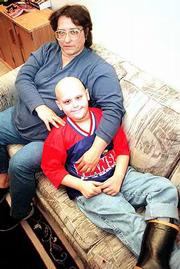 On the third trip to the doctor's office within two weeks, Jody had tiny red dots, called petechiae, all across his stomach because several of his small blood vessels had broken. After a few minutes, the doctor told Rita Guy that he had made an appointment at the Kansas University Medical Center in Kansas City, Kan.
"I asked when they were expecting us, and he said now. I was worried," the boy's mother said. "Jody's platelet count was below 59,000, and a low-normal count is around 180,000."
A reduced number of platelets may cause prolonged bleeding or easy bruising.
A few days later, Nov. 13, Jody was diagnosed with acute lymphoblastic leukemia. This type of leukemia is the most common cancer in children and accounts for 25 percent of cancers in children under age 15.
Luckily, Guy said, the leukemia was caught early, so her son started chemotherapy right away. She said Jody went into remission around Christmas and the doctors say his prognosis is good.
"All I could do was call my mother-in-law and my mom and tell them Merry Christmas. It came a little early for us," she said.
Despite the good news, Jody will continue to receive weekly shots in each thigh through November 2002, and every three weeks he must stay in the hospital for five days of intravenous therapy.
"I just hate it when they have to stick me," the second-grader said.
Because of the medical costs, several Baldwin residents have organized a chili supper fund-raiser from 5 p.m. to 8 p.m. this Saturday at Baldwin Elementary School. Chili dogs and dessert also will be served. Free-will donations will be accepted, and an account for the family has been set up through the Baldwin State Bank.
At the event, there will be a silent auction and raffle. Auction items include four Kansas City Royals tickets, a football signed by the late Kansas City Chiefs player, Derrick Thomas, and gift certificates to the Hereford House. Children's games and arts and crafts activities also will be provided.
Guy said she is thankful for the community's support, especially since she hasn't lived there long, and wants to put a thank-you advertisement in the newspaper after the fund-raiser.
She and her son moved to Baldwin from Lawrence this past spring.
"In Lawrence, Jody would have been a face in the crowd. But here, it's unbelievable what a small community will do," she said. "There's a whole lot of people I want to thank."
Copyright 2018 The Lawrence Journal-World. All rights reserved. This material may not be published, broadcast, rewritten or redistributed. We strive to uphold our values for every story published.