The word "legend" gets tossed around a lot, but Frank Black is one musician who truly deserves the title.
Black was the mastermind behind The Pixies, easily considered one of alternative rock's most-influential bands, paving the way for groups like Nirvana and Radiohead, who appropriated whole chunks of The Pixies' sound and spun it into platinum. From the sugar rush of their 1987 debut, "Come On Pilgrim" to their triumphant 1991 swan song, "Trompe Le Monde," The Pixies did much to change the face of modern music.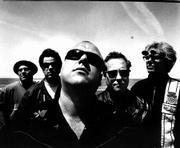 The Pixies splintered in the early '90s, with bassist Kim Deal forming the hugely successful Breeders and Black going it alone. In the ensuing years, Black has released a steady stream of solid-selling solo efforts that have kept him firmly in the center.
Black's been keeping busy these days, cropping up on "The Powerpuff Girls" soundtrack and singing backup on the latest Wallflowers effort. The singer-guitarist, along with his band the Catholics, released a new album, "Dog in the Sand" on Tuesday. "Dog" was recorded live on an ancient two-track console a process that produces raw rock with no overdubs or studio sheen of any kind a stark contrast to the soundwaves of mutilation that The Pixies used to put forth. Former Pixie guitarist Joey Santiago also was on hand for the new project, lending the album a fuzztone immediacy.
Well known for his sarcastic, caustic interviews, Black phones at the decidedly non-rock star hour of 8 a.m. to discuss everything from science fiction to The Pixies to Britney Spears.
Q: What made you start recording live in the studio?
A: "It feels superior to multitrack recording. I have a snobbish attitude about life. With two-track, it's an actual performance, it's not an assemblage of individual performances placed together in parallel universes to imitate a performance. I'm not saying it's superior to multitrack recording there's no rules but I like it ... When we record live with a 30-piece orchestra, then it'll start being difficult."
Q: How do you put together lyrics, and what's your songwriting process?
A: "I use a word processing program on my computer. I use several rhyming dictionaries. I use my brain, of course. Sometimes I refer to books that are in the same room books I've flipped through or scanned, occasionally books I've actually read. You know, I just write lyrics just like anybody who writes. It's a lot more work-oriented. I wish it was a little more magical you know I'm washing the dishes and 'Oh my gosh I gotta write that down!' (laughs). I wish it was like that but it's more like 'Geez, man, I told these guys they were gonna get demos in three days and I still haven't written a single (expletive) song.'"
Q: What made you decide to record with Joey Santiago again?
A: "(sighs) Oh, you know, we were at a bar together and both just broke down crying in tears, sobbing and hugging each other. And we said, 'Oh damn it all let's just do it, man. Let's play together again!' (laughs)"
Q: Are The Pixies an albatross at this point?
A: "It doesn't really come up other than the fact that when I do interviews people ask me, 'Are The Pixies an albatross at this point?' (laughs). You know, whatever, it's fine. (adopts alien voice) 'When I look across the space-time continuum I see myself a younger, thinner man playing angular, minimalist rock music to hordes of young European hipsters.'"
Q: Are you a fan of "X-Files" or sci-fi on TV right now?
A: "Science fiction in general on television is not what it could be. You definitely don't have things on television that are the caliber of "The Twilight Zone" or shows from the golden age of television. The sci-fi channel is a perfect example of that. The only time I could even watch the damn channel was a few years ago when they were showing great shows from the '60s. Now they have all this more contemporary programming, and it sucks ... 'X-Files' is not so bland, but there's a certain ridiculousness to that show. You know, last week they were traveling in time and this week what's-her-name the redhead is being Doubting Thomas again: 'Oh, I don't know about that, that isn't feasible.' Wait a minute, last week you were in the 1600s or something and now you don't think that you saw a ghost? It's ridiculous!"
Q: Have you had a chance to check out any of the new Ken Burns documentary 'Jazz?'
A: "Yeah, it's been on at the hotel after the show and it's great. I'm struck by the similarities in the lifestyles of the musicians compared to my own. Obviously, I'm not black and I'm allowed to eat in any restaurant that I walk by. Obviously, I have it a lot easier than a lot of the guys back then, even the white guys. But a lot of things are the same. It's kind of cool, it's like 'Oh, yeah. I know what they're talking about.' I know what they're talking about more than anybody who's watching the show. But I don't listen to much jazz. I mostly listen to old rock music from the '50s, '60s and '70s."
Q: So you don't listen to a lot of Britney Spears?
A: "No, I can't get into it on any level. Some people say, 'Oh yeah, I can understand it for what it is. It's really ingenious songwriting and really great stuff on its own level.' The only level I can get into from here is looking at her (breasts), and even that isn't that great ... I can't stand the whole media in terms of rock music, it's just so lame! Like the VH1 rockumentaries will actually show interesting footage of your favorite rock musicians from yesteryear, but could they package it any worse? Let's talk about Jimi Hendrix and let's get some really bland, boring quotes from someone from the modern age that's maybe not the best person to interview. Let's get Hanson to talk about 'The White Album.' I just can't believe how much they don't get it sometimes."
Copyright 2018 The Lawrence Journal-World. All rights reserved. This material may not be published, broadcast, rewritten or redistributed. We strive to uphold our values for every story published.