One surefire way to get the goods on our new president is to ask a native Texan.
"That guy's not from Texas," Deathray Davies guitarist and lifelong resident of the Lone Star state, Zack Blair, declares emphatically. "He's from like Maine or something. He said something about being a beer-drinking Texan. Everybody thinks he is because he was the governor, but I call (expletive) on all that."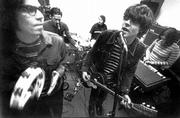 Though the Dallas-born guitarist isn't a huge fan of our new president, he is enthusiastic about the Dallas music scene, which has spawned underground bands such as Chomsky, The Paper Chase, Lucy Loves Schroder, Darrell and The Riverboat Gamblers.
"It's great," Blair says. "A lot the bands have gotten more serious. They're out on tour and a lot more labels nationwide are getting interested in the Dallas thing. There's a little bit of everything. There's not just a typical Dallas sound. The predominant scene is in Deep Ellum, a three or four block area with all the clubs. Whoever is playing there is usually the band that dominates the Dallas music scene."
One band that has dominated Dallas is Deathray Davies (currently singer-guitarist John Dufilho, bassist Jason Garner, drummer Bill Schupp, percussionist Kevin Ingle, keyboardist Lindsey Romig and Blair), who has experienced increasing success in the few short years it's been together.
Deep Ellum denizens
Deathray Davies began as the brainchild of Dufilho, former frontman for Bedwetter. The group cut its teeth playing Deep Ellum and recording songs in a tiny rehearsal space, handing out demo tapes to anyone who'd listen. Eventually the band signed with indie label My-t-Records and released its debut, "Drink With the Grown-Ups and Listen to the Jazz" in 1999. Late last year, the band released a sophomore effort, "The Return of the Drunk Ventriloquist," which has sold nearly 100,000 copies to date. Blair joined the band's touring lineup around that time and hasn't looked back since.
"As an outsider coming into it, I always thought the band could just be amazing and get a really good fanbase nationwide," he explains. "Really, it'll just take the work, and I think everybody in the band is willing to do that. Having a solidified lineup helps a lot."
Some have called Dufilho a sonic taskmaster like Billy Corgan and Trent Reznor, he records most of the band's material himself, bringing in various members to "guest" on a track or two. For Blair, this method isn't as problematic as it sounds.
"It's cool because John really gives everybody their own voice," he says. "So the music really becomes your own. He leaves it open for newer stuff for people to bring in and write with him. He's just a really prolific songwriter, and to my one song, he'll probably write 20."
What: Deathray Davies, Transforming ApolloWhen: 9 p.m. todayWhere: The Bottleneck, 737 N.H.Ticket information: 841-5483
Happy Zack
The 27-year-old guitarist picked up his first six-string at the age of 9 after hearing The Who. He currently wails away on a Gibson SG ("I love Angus Young!") but eschews the effects pedal trappings of many current fretboard masters.
"Pete Townsend is my complete and utter idol and The Who is my favorite band of all time," Blair enthuses. "I've always been into Deathray Davies for that reason. They've always reminded me of the early Kinks (thus the band's name) and The Who the sound that was coming out of Britain at that time. There's not much guitar distortion, but the band makes the power."
Before Blair joined DRD, he was a founding member of Hagfish, a hard-touring ensemble that often played Lawrence. Hagfish's story is the typical tale of a band that gets signed and dropped by a major label within the space of a few months and then signs with an indie (Fat Wreck Chords), only to break up after a couple of albums.
"We were steadily hitting it for five years," Blair recalls. "Then our singer started having children. By the end of it, he'd had two kids and decided that the touring life wasn't for him anymore. But I was growing up and that kind of music wasn't exactly what I wanted to be doing."
Blair also did a recent two-year stint in Gwar, the costumed metal band that fathered Slipknot and all the other creepy-crawly monster acts hitting the circuit.
"I'm a lot younger than those guys," Blair says of Gwar. "I just kind of took it as a gig. Now, with Deathray, I'm sort of ending my tenure with them. It wasn't the music I wanted to play and it definitely wasn't the thing I wanted to do. I mean, come on. Deathray came along and it's exactly what I want to be doing."
Copyright 2018 The Lawrence Journal-World. All rights reserved. This material may not be published, broadcast, rewritten or redistributed. We strive to uphold our values for every story published.