The Kaw Valley Soccer Assn. just beefed up its coaching lineup.
Free State High's soccer coach Jason Pendleton, Lawrence High coach Keith Nelson and Kansas University coach Mark Francis all have come into the KVSA fold, a move that Kaw Valley Soccer officials are sure will lead to better players at every level and more competitive teams.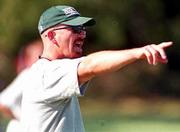 "Most other communities Topeka, for example, and Manhattan have their high school coaches directly involved in the clubs," said Frank Trovato, the KVSA's director of coach/player development who just had his contract extended to 2005. "We've finally gotten to the point where we can get those guys involved.
"It's going to bring everybody together. If we can agree on developmental principles, we can produce a much better-prepared soccer player. It works for everybody. We feel unity is the only way to provide a solid base for our players. It's real positive, and we're very excited about it."
The KVSA boasts 1,700 participants from grades K-12 in each of two sessions yearly. The KVSA umbrella covers soccer from recreational leagues to premiere high school teams.
The melding of all the local soccer coaches is a KVSA first.
"I think the fact that now the vast majority of the youths have an opportunity to get involved in soccer, not only whey they're very young, but at higher levels, puts us potentially on par down the road," Pendleton said. "We have been at a disadvantage. It wasn't that long ago that there was a philosophical difference in the Lawrence community about what soccer's about, whether the focus should be on the rec-league level or focus on higher competition. This proves you can do both."
For the first KVSA session, which begins April 1, Pendleton will coach the under-13 premier boys team, while Nelson will coach the U-14 premier girls team.
Eventually, when the KVSA adopts single-age teams that is, when the U-14 team is made only of 14-year-olds, not a mix of 13- and 14-year-olds the high school coaches would alternate as coaches of the premier boys and girls U-14 teams.
"They're two of the best coaches in the state," Trovato said. "We've tried to position those coaches at the U-13, U-14 age group so they'll (players) get a preview of what they'll be facing in high school prior to getting there. They'll have a better understanding of the level, and they'll get to know the coaches better. It's great for the club, the players and the coaches."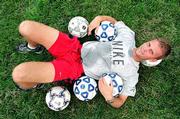 Amen, said Pendleton.
"I'm excited about it," he said. "There's the possibility that, three years down the road, the players I have now could help me at the high school. And it's not a bad plan to have us trading off boys and girls. That way, the players would be exposed to different coaching styles. At the same time, they'll be exposed to the expectations the high school coaches have for them. It's a plus for them and a plus for us. Of course, it's selfish on my part. I think the kids get something out of it, but ultimately I'm doing it to help my program."
Trovato has built in several safeguards to prevent either coach from playing favorites. Trovato will hold the tryouts and assign the teams, and all coaches must abide by the KVSA's developmental program.
"We're trying to avoid any perceptions of them selecting teams for their own programs," Trovato said. "They won't have a hand in team selection. They're handed a team. And there are age-group objectives for the club, and they'll be required to follow our plan. Other communities don't even have those safeguards. We're just trying to protect the integrity of the club. Fortunately, they're both interested in improving soccer in the whole community."
So, apparently, is Francis. He and members of his KU staff will work with the KVSA's recreational Soccer Juniors program.
"It'll be a camp-like setting. For a small extra fee, it's another practice, another soccer activity in the week," Trovato said. "They'll do fun games and get people interested. And they'll hand out their information to get more people interested. It's a great situation. We have a great trio of coaches and we're all working together to improve soccer for the whole community. I'm real excited."
kawvalleysoccer.com
Copyright 2018 The Lawrence Journal-World. All rights reserved. This material may not be published, broadcast, rewritten or redistributed. We strive to uphold our values for every story published.