Although blues music occasionally functions as a platform for social commentary, it is rarely thought of as a political vehicle. But for Kansas City native and current Austin, Tex.-based musician Guy Forsyth, the message is as important as the melody.
The charismatic singer-songwriter, whose mastery of the guitar, harp and electric saw (really) has made him a standout artist in a town brimming with talent, has just released his fourth solo album, "Steak." Though the tunes featured on the disc range from traditional jump blues to Bo Diddley boogies, the credits on "Steak" reveal some definite political leanings, whether seeking executive pardons from a certain former Texas governor or spouting Ralph Nader propaganda. And Forsyth takes it farther than just the words on the liner notes.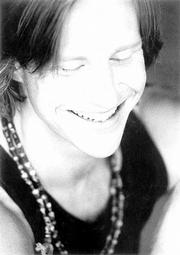 "I worked for the Green Party here in town, canvassing to get names on the Texas ballot, because as I get older, I get more political," Forsyth confesses in a recent interview from his Austin home. "So when I'm doing shows, I'll go off about politics on the microphone sometimes ... I realize a lot of people go out and see me play, looking for a good time and not to get preached to that's about the fastest way to turn somebody off who came out to dance or get laid is to go on about global warming. But I'm not going to do this job and not talk about it, because I won't be able to sleep at night."
Prime cuts
The album cover for "Steak" features the 32-year-old musician in a satirically staged portrait of a 1950s nuclear family. The photo shows a smiling Forsyth at the dinner table admiring a juicy helping of raw steak served by his June Cleaver wife, while his adoring 2.5 children look on.
Forsyth is quick to contrast the Eisenhower-era image of yesteryear with the reality of today's American culture.
"I think the biggest change between now and then is that the principal work among science in our generation is to control the way people think and to market the American dream to take images that resonate in our hearts and minds and find ways to sell products with that," he says. "On 'Steak,' one of my songs called 'Cadillac' is poking fun at all the car songs that talk about how great it is to have a huge automobile.
"For example, I was just at the Sundance Film Festival in Park City, Utah," he continues. "While I was there I saw an ASCAP songwriters forum. One of the women who was playing was a country artist, and she starts singing this song about 'I'm just a regular girl. I'm a Chevy girl. I love the basic things, like the taste of Coca-Cola.' And it's just like, 'Man, they got you. They own you. You're just adding to the problem.' If you take any time at all to get away from news sources like CNN and USA Today, you see that these corporations like Chevy and Coca-Cola and Firestone and McDonald's aren't doing you any favors. They're doing horrible things culturally and economically and environmentally. They're raping and pillaging the world. A few people are getting really rich, but the people who've spent their lives working for them are still below the poverty line."
Forsyth wasn't just at Sundance to politically commiserate with Robert Redford. He was actually there as part of the film festival, following his role in Austin filmmaker Richard Linklater's ("The Newton Boys") newest flick, "Waking Life."
What: Guy ForsythWhen: 9 p.m. TuesdayWhere: The Bottleneck, 737 N.H.Ticket information: 841-5483When: 9 p.m. Feb. 8Where: Grand Emporium, 3832 Main St., Kansas City, Mo.Ticket information: (816) 531-1504
"It's shot with live actors, then using a computer-based process similar to Rotoscoping, they go back over the film and animate it," Forsyth explains. "So it looks like a live-action Monet or Gaugin painting."
In the film, Forsyth shares a scene with star Wiley Wiggins (from Linklater's "Dazed and Confused") where he dispenses philosophy to the actor while playing the ukulele.
"It's great to be a part of 'Waking Life,'" he says. "It's neat to see myself as a cartoon character more so than normal, I mean."
Mighty KC
For a performer who is now so strongly associated with Austin, Forsyth has strong ties to Kansas City and Lawrence. While in the fourth grade, Forsyth moved to a suburb of Kansas City. It was there that he began learning the harmonica and guitar when he reached high school. Though legally unable to indulge in the city's blues scene, he still found ways to participate.
"When I was 15 or 16, I was taking the family car and going downtown," he recalls. "I snuck in to the Grand Emporium and Harling's Upstairs and The Point. I was going to Harling's Upstairs and climbing up the back entrance. There was a way you could get in where you couldn't be seen by the bar, so I would sit on the stairs and listen to the music. I wasn't small, so I could kind of blend in. I didn't drink at least not at first. Sometimes I'd get caught and I'd shoot out of the club; and sometimes I'd get caught and the band would say, 'Hey, he can stay.'"
After graduating from Shawnee Mission South High School, Forsyth moved to Lawrence to attend Kansas University in 1988.
"I went there for my whole half-year college experience," he says. "I was playing guitar a whole lot, but mostly in my dorm room. The very first gig that I ever did was at The Crossing."
Originally enrolled to study theater, Forsyth was bitten by the blues bug while in Lawrence.
"I saw John Hammond play at The Jazzhaus when I was 18,
Copyright 2018 The Lawrence Journal-World. All rights reserved. This material may not be published, broadcast, rewritten or redistributed. We strive to uphold our values for every story published.