Wider walkways, grand entrances and hundreds of more trees.
Those are some of the proposals envisioned in a new landscape master plan for Kansas University's Lawrence campus.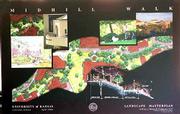 The plan will cost $22.6 million during the next 10 years and make KU prettier, shadier and even more drought resistant, said Warren Corman, the school's architect.
Corman has started showing off the plan to groups within the KU community.
"We have a beautiful place, but time and thousands of feet are starting to wear it down," he said Wednesday.
The master plan was pushed by KU Chancellor Robert Hemenway, which resulted in a three-volume, $190,000 report by consultants Jeffrey L. Bruce and Co. of Kansas City, Mo.
"I think it's the best thing since sliced bread," Hemenway said.
Much of the experience of KU students and faculty is tied to the physical attributes of the campus, the report said. But time, storms, plant disease and traffic have taken their toll on Mount Oread, according to the report.
The landscape master plan contains four major projects, including dressing up the main entrances to the campus, creating a "Mid Hill Walk," providing wider walks and better views from Memorial Drive, and improving Jayhawk Boulevard.
The entrances will include garden walls, new signage, landscaping and sculptures.
The Mid Hill Walk will better define an east-west path that thousands of students already are taking from 15th Street and Naismith Drive to Sunflower Road and the Watson Library.
More trees will be added around campus, as will new varieties of grasses that don't require much water.
Corman said the master plan is ambitious and fund-raising already has started. It will be funded entirely with private donations, he said.
"You have to start with the first step," he said.
Corman said architects will start designing new signs immediately and have already received some money to begin erecting them yet this year. Other landscaping projects will commence as money allows.
Copyright 2018 The Lawrence Journal-World. All rights reserved. This material may not be published, broadcast, rewritten or redistributed. We strive to uphold our values for every story published.