Kenneth Spencer Research Library Curator in Graphics James Helliar describes the exhibition entitled "Winter Interludes" as the tips of icebergs. The show consists primarily of eight plates selected from the library's various collections, which depict winter, holiday, or children's themes. According to Helliar, each of these plates was selected as a representative example of a major collection in the library's possession.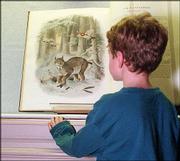 The image entitled "Felis Canadensis" by Daniel Giraud Elliot, from the 1883 work "A monograph of the Felidae, or family of the cats is an example of the library's exceptional collection of works in the area of mammology.
"Breaking Up" by George Cruikshank, published in London's "The Royal Exchange" on December12, 1824 exemplifies the library's extensive collection of eighteenth and early nineteenth century British holdings. This collection includes original issues of many of Charles Dickens' books.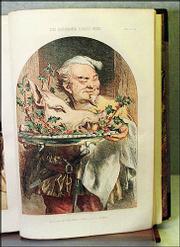 J. Gilbert's "Bringing in the boar's head" from The Illustrated London News from December 22, 1855 is an evocation of the popular myth of "Old Christmas." The Illustrated London News was the first color illustrated newspaper.
The show also includes a small collection of black and white photographs depicting winter activities on the University of Kansas campus. The exhibition is intended as an interim event, promoting the library and will run through the end of January when the Langston Hughes centenary exhibition will open.
The exhibit is in the main gallery on the third floor of the Kenneth Spencer Research Library. Hours are Monday through Friday from 8:00 a.m. to 5:00 p.m., and from noon to 4:00 p.m. on Saturdays. The library will be closed December 22-25, December 29-30, January 1, January 5-6, and January 12.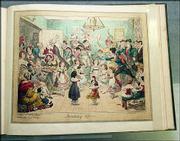 For more information about the library, visit http://spencer.lib.ku.edu.
Copyright 2018 The Lawrence Journal-World. All rights reserved. This material may not be published, broadcast, rewritten or redistributed. We strive to uphold our values for every story published.