Pontiac, Mich. — Chester Taylor lived up to the hype.
Taylor ran for a Motor City Bowl-record 190 yards and scored the go-ahead touchdown with 3:23 left as No. 25 Toledo beat Cincinnati, 23-16, Saturday.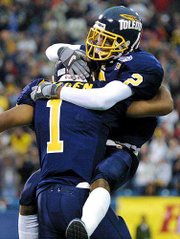 "Taylor was as good as advertised," Cincinnati coach Rick Minter said of the game MVP.
Cincinnati (7-5) drove to the 5, but couldn't convert on fourth-and-4 with 50 seconds left. Cincinnati's Ray Jackson, who transferred from Michigan, bobbled a deflected pass in a crowded end zone, sealing the victory for Toledo (10-2).
"Everybody was talking about our offenses before the game," Toledo coach Tom Amstutz said. "But it always comes down to defense."
Toledo averaged nearly 35 points while the Bearcats scored almost 30 points a game this season.
Toledo quarterback Tavares Bolden was 14-of-28 for 135 yards with one interception and ran for 99 yards, which helped the Rockets set a Motor City Bowl-record with 322 yards rushing.
Toledo held Cincinnati to just 13 yards on the ground, also a record in the fifth-year bowl.
Taylor's 24-yard touchdown capped an 80-yard drive, which he keyed with three carries for 52 yards. The third-team All-America selection had a bowl-record 31 carries.
He celebrated with his family and friends, who drove less than an hour from his hometown of River Rouge, Mich.
"The offensive line did a great job," Taylor said. "All I had to do was break tackles."
Cincinnati's Gino Guidugli was 29-of-46 for 283 yards and a touchdown. Tye Keith caught a bowl-record nine catches for 63 yards.
Both teams put together long drives on the first two possessions of the fourth quarter but settled for field goals.
The Rockets went 76 yards on 14 plays over five minutes, but stalled at Cincinnati's 13. Todd France's 30-yard field goal gave them a 16-13 lead with 9:42 left.
The Bearcats then stalled at Toledo's 8 after driving 73 yards. Jonathan Ruffin's 25-yard kick tied the game with 6:26 to go.
Marshall represented the Mid-American Conference in the first four Motor City Bowls and won the previous three. The MAC is 2-0 this season in bowls . Conference USA is 0-3.
About 35,000 fans watched what was expected to be the final Motor City Bowl played at the Silverdome. Next year's game will likely be at Ford Field, a new stadium under construction in Detroit.
Copyright 2018 The Associated Press. All rights reserved. This material may not be published, broadcast, rewritten or redistributed. We strive to uphold our values for every story published.