TOLEDO, OHIO — The imposing and menacing figure dressed in black is on display where a red granite lion from Sudan a prized and priceless 4-ton piece from the British Museum in London once stood.
The Darth Vader costume from "Star Wars" is at the Toledo Museum of Art because the dark lord has a particular drawing power.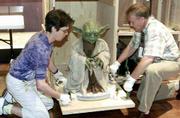 Art museums increasingly are counting on exhibits rooted in popular culture to attract bigger and younger audiences. The wildly successful "Star Wars: The Magic of Myth" is the latest draw.
"It's certainly not one of our traditional offerings," said Roger Berkowitz, director of the Toledo museum, a facility that is known for its outstanding collection of glass art.
"We hoped that it would bring in new and younger audiences," he said, adding that the exhibit will help make the museum a less intimidating place. "We're always working to make people feel more comfortable."
It seems to have worked. Galleries have been filled with families and young children, and the museum estimates that as many as 180,000 people will attend the show before it closes in January.
It's not just science fiction that is creeping into museums. There was "The Art of the Motorcycle" at the Guggenheim Museum of Art a few years ago, in which more than 301,000 people came to see the 114 motorcycles that lined the New York museum's famous circular ramp.
Last year, the San Francisco Metropolitan Museum of Art presented an ode to the athletic shoe. That show, according to the museum's promotional literature, featured "shoes that are both expressive and disciplined, integrated and collaged."
"Design Afoot" showcased more than 150 athletic shoes from such manufacturers as Converse, Nike, Adidas and Prada.
"It was incredibly popular," said museum spokeswoman Libby Garrison. "It was more than we expected."
More pop art came this summer when the Metropolitan Museum of Art in New York had a retrospective of Jacqueline Kennedy's clothing and style.
"It was just basically a Jackie fest," said Kym Rice, assistant director of museum studies at George Washington University. "People were there mostly because of the celebrity aura."
Rice has been critical of the inclusion of exhibits that walk a fine line between art and popular culture.
"There's a greater emphasis in museums on marketing and audience development," she said. "They're willing to blur the lines a little bit."
She said her concern is that museums will pass on controversial exhibitions to show something less enlightening. Still, she does see value in presenting what's popular.
"When you get people in the door to see 'Star Wars,' you might get them into the permanent collections," Rice said.
Appealing to the masses
The traveling "Star Wars" show has been seen by more than 1.7 million people in six cities. It has attracted families with young children and people who normally wouldn't take time to visit the museum. And it's broken attendance records in Minneapolis and Houston.
'"Star Wars' strikes a chord with everybody," Bruce Pope, of Rochester, N.Y., said as he walked through the exhibit with his brother, Larry.
They agreed that art museums shouldn't ignore popular culture.
"If that's the case, you'd never see anything new," Larry Pope said.
Jeffrey A. Brown, a professor of popular culture at Bowling Green State University who created a display that helps bridge "Star Wars" with traditional art, agrees. He scoffs when others argue that "if it appeals to the masses, it's just not art."
"It's incredibly elitist," he said. "They're trying to maintain privileges as gatekeepers of culture."
It took Berkowitz just one day to realize the force of "Star Wars."
"It was really the day it opened," he said. "There were all these people in costumes. I don't think we've had people dress up for an exhibition before."
Others stood out in another way.
"It was clearly the first time they were in the museum. That was great," said Berkowitz, who knew little about "Star Wars" and had not seen the four movies until the exhibit was scheduled to come to Toledo.
The "Star Wars" exhibit moves to the Brooklyn Museum of Art in New York through June following its run in Toledo.
Untrained viewers
The Brooklyn Museum also is trying to shed the image that museums are elitist and academic.
"Anybody should be able to walk into an institution and find something they can relate to," said spokesman Reggie Cameron. "A public institution shouldn't be just for a small segment of the population."
A year ago, an exhibit there explored the roots of hip-hop culture.
"We're not alone," Cameron said. "We're certainly in good company."
Some first-time museum visitors elsewhere have created trouble in the galleries.
Among the most dubious was at the Minneapolis Institute of Arts, when a "Star Wars" fan waiting in line took a seat on a 16th-century Ming Dynasty chair, breaking its horseshoe-shaped back in three places.
No charges were filed against the visitor, and the chair was repaired.
To help bridge the link to its permanent exhibits, the Toledo museum set up a companion display that helps explain why the art of "Star Wars" is universal and timeless. It uses works from the museum's permanent collection and shows off the heroes and myths present in traditional art.
"These are the same themes," Brown said. '"Star Wars' is just a modern version of what people have been painting and sculpting for centuries."
Copyright 2018 The Associated Press. All rights reserved. This material may not be published, broadcast, rewritten or redistributed. We strive to uphold our values for every story published.