Washington — Coming off the worst game of his career, Michael Jordan felt he needed to make a statement. Boy, did he ever.
Embarrassing every defender who tried to guard him, Jordan scored 51 points and set franchise records with 24 first-quarter points and 34 points in a half Saturday night as the Wizards snapped a two-game losing streak with a 107-90 victory over the Charlotte Hornets.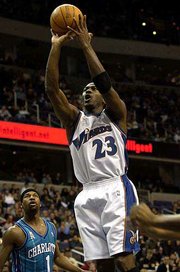 "Fifty-one is something I didn't imagine," Charlotte forward P.J. Brown said. "He kind of went back in time tonight."
Jordan made 21 of 38 shots from the field, 9 of 10 free throws and had seven rebounds and four assists in 38 minutes. He had a shot at Earl Monroe's franchise game record of 56 until the Wizards blew the game open in the third quarter, allowing coach Doug Collins to sit his star for good with 3:08 remaining in the game.
"You think the guy's got a little pride?" Collins said. "He had a tough night in Indiana, and I think he was going to come back and show who he is. ... I've seen this guy do some unbelievable things, but at age 38 to do this tonight is incredible."
Jordan scored a career-low six points in Thursday's loss to the Pacers, ending his record 866-game streak of 10 points or more. He needed only 4:25 to start another double-digit streak, making five of his first six shots and scoring the Wizards' first 13 points.
"I'm pretty sure you guys were saying how old I was," Jordan said. "And I wanted certainly to make a statement offensively."
Jordan's 39th regular season 50-point game also set an MCI Center record and was the first 50-point game by a Wizards player since Tracy Murray scored 50 at Golden State on Feb. 10, 1998. It was the first 50-point game by a Wizards player at home since Bernard King's 50 against Utah on March 6, 1991.
It was Jordan's first 50-pointer since scoring 55 points for Chicago in a playoff game against Washington in 1997.
Hubert Davis added 21 points and Jahidi White had 12 points and a season-high 12 rebounds for the Wizards.
Jamaal Magloire scored a career-high 22 points to lead the Hornets, who beat the Wizards 99-93 on Wednesday. Baron Davis, who was listed as doubtful with a bruised right knee, started and scored 14 points in 42 minutes.
Realizing he was hot, Jordan wanted the ball and wanted it badly. Two familiar moves were on display early and often: the fadeaway off the screen and the pivot around a defender who left his feet falling for the fake.
Jordan's best move: On the right wing, he moved to the right around Magloire, hung the air forever and kissed a 14-footer off the glass while drawing the foul. Jordan made the free throw to give the Wizards a 25-19 lead.
Jordan didn't have his legs in the fourth quarter, shooting just 2-for-7, but he blew past Stacey Augmon for an easy layup with seven minutes left.
Bulls 103, Cavaliers 80
Chicago Bill Cartwright took a new seat on the bench. Not as a player or an assistant, but as head coach of the Chicago Bulls. For one game anyway, his players responded. Did they ever.
Ron Mercer scored 15 points and the Bulls matched their highest scoring output of the season, routing Cleveland to snap an eight-game losing streak.
Celtics 105, Clippers 103, OT
Los Angeles Antoine Walker hit a go-ahead 3-pointer with 32.5 seconds left in overtime, and Paul Pierce scored 14 of his 35 in the fourth quarter before fouling out as the Boston Celtics rallied from an 18-point deficit to beat Los Angeles. Walker had 29 points to help the Celtics to their 13th victory in their last 17 games, and fourth straight over the Clippers. Los Angeles has lost three straight after winning 10 of 13.
Suns 109, Nuggets 92
Phoenix John Wallace scored 15 of his season-high 23 points in the second quarter and Penny Hardaway finished with a triple-double to lead Phoenix over Denver. Wallace sparked a second-quarter burst that propelled the Suns from a 27-25 first-period deficit to a 58-51 halftime lead. After that, the Suns never led by fewer than five points in beating the Nuggets for the first time in three meetings this season.
Bucks 102, Spurs 99, OT
Milwaukee Tim Thomas scored 24 points, including two key baskets in overtime, to lead Milwaukee to its sixth straight win over San Antonio. Sam Cassell added 15 points for Milwaukee, including two free throws with five seconds left to make it 102-99. Tim Duncan scored a game-high 38 points for San Antonio, but missed a potential game-tying three-pointer at the buzzer.
Jazz 89, 76ers 81
Salt Lake City Karl Malone had 20 points and 17 rebounds as Utah beat Philadelphia, handing coach Jerry Sloan his 800th career victory. The Jazz won their fourth in a row and, for the first time this season, climbed above the .500 mark at 16-15. Sloan got his milestone victory three nights after 76ers coach Larry Brown notched his 800th career win.
It was a wild night at the Delta Center, with Derrick Coleman ejected after punching Malone's arm.
Mavericks 113, Hawks 97
Dallas Don Nelson became the third coach in NBA history to win 1,000 games, getting a season-high 35 points from Dirk Nowitzki in Dallas' win over Atlanta. Nelson's record improved to 1,000-790, joining Lenny Wilkens (1,242) and Pat Riley (1,054) as the only coaches to reach 1,000 victories in league history. Players and coaches from both teams lined up to congratulate Nelson with hugs and handshakes after the game.
Nets 98, Pacers 93, OT
East Rutherford, N.J. Kerry Kittles scored 22 points, including a tying three-pointer at the end of regulation and two key baskets in overtime to lead New Jersey over Indiana. Todd MacCulloch had 21 points and Jason Kidd added eight points, a season-high 15 rebounds and 14 assists as New Jersey won its third straight game to halt the Pacers four-game winning streak.
SuperSonics 101, Raptors 75
Seattle Vin Baker scored 21 points and Gary Payton added 18 points and 11 assists as Seattle took advantage of Vince Carter's absense to beat Toronto. The Raptors were without center Hakeem Olajuwon, who did not travel with the team because of an infected toe.
Copyright 2018 The Associated Press. All rights reserved. This material may not be published, broadcast, rewritten or redistributed. We strive to uphold our values for every story published.