San Diego — Major Applewhite saved his greatest game for last as the Texas Longhorns won one of the wildest Holiday Bowls ever.
Starting his final college game after riding the bench for almost his entire senior season, Applewhite rallied the No. 9 Longhorns to a 47-43 victory over No. 21 Washington on Friday night in a game that'll add to this bowl's legacy of thrilling finishes.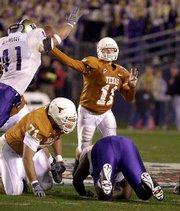 The Longhorns (11-2) trailed 36-20 entering the fourth quarter, but Applewhite who threw three interceptions in the second quarter was already in the process of leading Texas to scores on six of its last seven possessions.
After Willie Hurst gave Washington a 43-40 lead on a 34-yard touchdown run with 1:49 left, Applewhite moved the Longhorns 80 yards in seven plays, with running back Ivan Williams scoring on a 3-yard run with 38 seconds left.
Applewhite completed 37 of 55 passes for 473 yards, all career bests and all breaking his own school records. His four touchdown passes tied his career high.
"We all refused to quit," Applewhite said. "We did a great job as a team. The defense started off rough, I started off rough, but in the second half it was another great Holiday Bowl."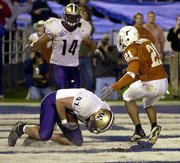 Applewhite, who holds 44 school records, got the start after replacing Chris Simms in the second quarter of the Big 12 championship game on Dec. 1 and leading a desperate rally that fell just short as Texas lost to Colorado 39-37, blowing a shot at the national championship game.
Washington (8-4) fell to 0-3 in the Holiday Bowl.
Copyright 2018 The Associated Press. All rights reserved. This material may not be published, broadcast, rewritten or redistributed. We strive to uphold our values for every story published.