By Chad Lawhorn
clawhorn@ljworld.com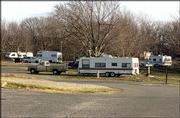 In this neighborhood, there's no sign of Christmas. No rooftops lined with lights, no Santas in the front yards, no Christmas trees shining through windows.
Instead there are camp trailers; mostly old, lackluster trailers no more than 30 feet long and 10 feet wide.
The neighborhood is Campground No. 3 at Clinton Lake State Park.
Camping for Christmas? Not exactly. Most in this neighborhood are simply home for the holidays. Of the nearly 20 trailers at the campground this week, an estimated 14 are more-or-less permanent residents with no other home, according to several members of the neighborhood.
"I'm out here all the time," Roy Minton said. "I haven't lived in a house for four or five years. It's not all bad. It's pretty nice. You get to know a lot of people.
"We'll sit around a campfire and talk about this or that and the ones that got away. Basically we just sit around and tell lies. There's good people out here."
It's also an inexpensive way to live.
That is what draws most of the permanent residents to the campground. The long-termers pay state park fees of $91 every two weeks. That includes the cost of their campsite and utilities.
"It's a good way to get back on your feet," said Mark Miller, a former McLouth resident who has been living at the park since March, when he was released from a Florida prison. "It's a cheap way to live if you don't mind roughing it a little bit."
But Miller's trailer and most others have the basics a TV, a VCR, a microwave, a hot plate and electric heaters.
"The only thing is you just don't have the room that you would like to have," said Elizabeth Dodds, who lives with her husband and 6-year-old son in a 29-foot trailer. "I like it a lot. We were just going to do it for the summer, but we're saving so much we thought we should stick it out for a while."
Her husband, Kenny Dodds, said he knows some people may wonder why a family would live in a camper, but he sees it as being a good financial decision.
"Last winter we were paying about $400 a month for gas and electricity, plus rent, and then we finally just asked ourselves what we were doing," Kenny said. "We could never get ahead.
"And it's really pretty good, too. We have our own yard crew, our own security force and our own toilet cleaning crew."
Ah, the toilets. Every rose has its thorn. All the campsites have been devoid of water service since the first freeze in November, which means campers must use a community toilet/shower house/laundry for all their water needs.
"Water is the roughest part," Miller said. "You have to haul your own during the winter."
But they stay, and not only because it's cheap.
"I like the peace and the quiet the best," Miller said. "Usually on weekends we'll get together and have a big cookout. Somebody will smoke a turkey or a ham, and the rest of us will bring potato salad or baked beans or whatever.
"It's nice. You know, I'm single and don't have any family. Really, the people out here are my family."
Staff writer Chad Lawhorn can be reached at 832-6362.
Copyright 2018 The Lawrence Journal-World. All rights reserved. This material may not be published, broadcast, rewritten or redistributed. We strive to uphold our values for every story published.