Lindsborg — It's the Super Bowl of Kansas chess.
But competitors in the Lindsborg Rotary Open Chess Tournament say it isn't about wins and losses. It's about the exercise of the mind.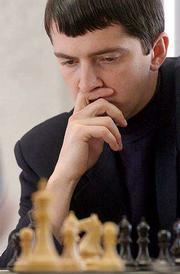 "Most people don't see past here," said Lindsborg Chess Club member and McPherson resident Ron Chinka, gesturing toward his nose.
"Chess teaches you to look ahead three to five moves. The grand masters look ahead maybe 12 moves to their specific consequences. What chess does is help you learn to reason things out in your mind."
"It's a tremendous educational exercise for the mind," said Bethany College professor Mikhail Korenman, a competitor and organizer of the tournament.
"It's tremendous fun to concentrate and play to see if you can reach the depths of your competition. Sometimes it works. Sometimes it doesn't."
The tournament at Bethany College, which ended Sunday, brought together the largest collection of grand, international and national masters in state history, Korenman said.
"We got extremely lucky," he said. "We got top players in here, and everyone else wanted to come watch them play and play a little themselves.
The tournament had 75 competitors, including players in the open, reserve, simultaneous, scholastic and blitz categories.
The star of the tournament was Aleksander Onischuk, a native of the Ukraine now living in Denver. Onischuk is the 30th ranked player in the world.
"Chess is a sport, yes, but it is my life," said Onischuk. "It has been a benefit in many ways. I travel a lot, so I get to meet many people. Chess is a good exercise for my mind."
Also featured were Igor Novikov, ranked seventh in the United States, and Yuri Shulman, a grand master ranked 13th in the United States and winner of the 2001 World Open. International masters John Donaldson and Mike Brooks were part of the field, as were national masters Wesley Koehler and Mikhail Langer.
The tournament got started through Shulman's work with the annual chess camp at Bethany College.
"This is one of the most successful chess clubs anywhere," said Sterling resident Lance Gill, director of the scholastic tournament.
He credited Korenman, a three-year chemistry professor on the Bethany College faculty, with bringing the chess club and the city together for the tournament.
The results were enough to impress the best players in Lindsborg this weekend.
"There are many good players, much good competition," Onischuk said. "It was easy to come, knowing that this organization is very good. It has been a good chance to play."
Copyright 2018 The Associated Press. All rights reserved. This material may not be published, broadcast, rewritten or redistributed. We strive to uphold our values for every story published.