New York — When you think of Kid Rock, the words "songwriter" or "musician" are probably not the first to come to mind.
Most people focus on the over-the-top image the Detroit rock-rapper has parlayed into multiplatinum success: middle fingers blazing, nearly naked girls at his side as he belts out his hits in full screech.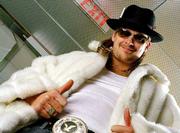 But with his new album, the aptly titled "Cocky," Kid Rock Bob Ritchie to friends and family hopes people will start looking past the image and concentrate on the music.
"I think people are starting to understand that I am a musician; that is what I focus on," the 30-year-old says. "And then we add the antics, and I think that's what rock 'n' roll is. Make sure the talent's there, add the antics, charge the admission, and everybody have a good time."
Kid Rock brewed a successful mix of debauchery and entertainment with his 1998 breakthrough disc, "Devil Without a Cause." At the time, mixing hard rock beats with rap was just starting to become mainstream, with acts like Limp Bizkit leading the charge. Rock, a former hip-hop DJ, combined it with a stage show that was part frat house, part Penthouse.
On "Cocky," he tinkers a bit with the formula. The new disc has fewer of Kid Rock's signature brash, rock-rap hybrid songs and more of the Southern rock, blues and country music that he listened to in his youth. Even Grammy winner Sheryl Crow helps out on one song, "Picture."
Still, there's plenty that Kid Rock fans are accustomed to, including a collaboration with Snoop Dogg and song titles like "Drunk in the Morning."
"It's a progression; I hope it's not too much of a progression," he says. "Some people were worried about that, the powers that be."
So far "Cocky" has not lived up to sales expectations, selling fewer than 500,000 copies since its release Nov. 20. But sales don't seem to be Kid Rock's primary focus these days.
"At this point, I don't have anything to prove," he says. "I'd like to hopefully influence some kids to pick up instruments and become better players and really try and expose them to that blues, the simplicity of that American blues music, that the British bands did so well."
Don't believe the hype
In person, Kid Rock seems far different than the hype. Introducing himself as Bob Ritchie, he is low-key and down-to-earth, with a wry sense of humor. MTV's Amy Doyle recently accompanied him to Germany when he, Jennifer Lopez and Ja Rule performed at a military base in "For the Troops: An MTV/USO Special," to air on New Year's Day.
"He has an incredible personality that draws people in," Doyle says. "There's a sense a humor and a wit and a regular guy about him that people can relate to."
Kid Rock says his favorite disc this year was the "O Brother Where Art Thou" soundtrack. He talks about collaborating with Willie Nelson and Hank Williams Jr. and jamming with Tim McGraw. He even says that one day he'd like to do a "straight country album."
The Crow duet came about after the two met at a party after the Grammys.
"Sheryl had said some nice things about my last record," he says.
Although the pair worked on music together, Kid Rock denies reports that they were briefly a couple.
The tabloid romance that is true is with Pamela Anderson. They have been dating since April, when they met backstage at VH1's diva salute to Aretha Franklin. Despite Anderson's bodacious image, Kid Rock says their relationship is pretty low-key.
"At first it's a big novelty," he says. "And then the novelty eventually wears off, and I started to realize how much I like her as a person, and as a mother and as a nurturer.
"It's almost old-fashioned in a sense. I'll take the garbage out and throw the kids around the yard. She wants to cook dinner and read books to the kids at night," he says. "That's what I always wanted."
Copyright 2018 The Associated Press. All rights reserved. This material may not be published, broadcast, rewritten or redistributed. We strive to uphold our values for every story published.