Numerous artists displayed their holiday spirit for the Journal-World's first Holiday Art Contest.
Winners receive four movie passes donated by Southwind Twelve Theatres. Honorable mentions will receive certificates of merit. The winners and several of the honorable mention works are shown here.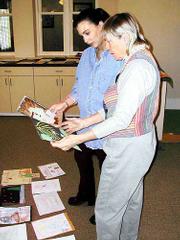 Judges were Lawrence artist Jan Gaumnitz and Ellen Casagrande, artist and education director at the Lawrence Arts Center.
Entries can be picked up from 9 a.m. to 5 p.m. Mondays-Fridays at the Journal-World, 645 N.H.
All entries can be seen below.
Adult
Winner: James Schaefer and Trent Flory, Lawrence, "Winter's Carol," guache and pastel on paper.
Honorable mentions: Melissa Clarkson, Lawrence, "Mandy the bear with bunny doll," Schulte mohair.
Lesa Marbut, Lawrence, "Poinsettias," mixed media of acrylics and ink on canvas.
Shakura Jackson, Lawrence, "Snow 2001," photograph.
Lynn Metzger, Lawrence, "Follow the Red Glow," watercolor.
Scott Meinking, Lawrence, "Poor Santa," acrylic paints and pastels.
High school
Winner: Joshua White, Lawrence, "Santa's Arrival," colored pencils and ink.
Elementary school
Winner: Kirsten Baggett, Tonganoxie, "Sleep in Heavenly Peace," watercolor.
Honorable mentions: Chris Slankard, Eudora, "Glory to God," pastels.
Kristin Strom, Lawrence, "Home for the Holidays," colored pencils.
Carly Fish, Lawrence, "Old Fashion Rudolph," colored pencils.
Aileen Doll, Lawrence, "Night Before Christmas," construction paper and pastels.
Joseph Rothschild, Topeka, "Holiday Roundup," crayons.
Daniel McPherson, Lawrence, "The Stable is Blessed," pencil.
Brandon Kissinger, Lawrence, no title, crayons and pencil.
Madeline Fister, Lawrence, "Christmas Eve," pencil and colored pencils.
Jessica Holland, Lawrence, no title, pencil and colored marker.
Rhianna Davis, Lawrence, "Christmas Time," crayons, marker and pencils.
Editors note: At the time of publication, complete names were not available for all entrants. As these names are gathered this page will be updated to include them.

---
Copyright 2017 The Lawrence Journal-World. All rights reserved. This material may not be published, broadcast, rewritten or redistributed. We strive to uphold our values for every story published.