New York — Katie Couric has agreed to stay as host of the "Today" show for several more years with a new contract that ends an anxiety-producing courtship for NBC.
Neither Couric nor the network would comment Wednesday on published reports that the contract, which stretches through 2006, was worth as much as $65 million and could make her the highest-paid personality in TV news.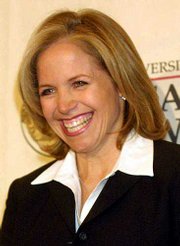 Couric said she would "probably" stay on "Today" for the contract's duration, although there is flexibility for her to do other things. She'll do some prime-time specials and "Dateline NBC" reports.
"I would love to stay at the 'Today' show as long as they want me, and as long as I feel like I'm doing fun, exciting work," she said in an interview.
The Couric signing is a major relief to NBC, which was worried that the recent sluggish ratings for "Today" would worsen if she left.
Couric has been "Today" host since April 1991 when she replaced Deborah Norville, teamed first with Bryant Gumbel and, since 1997, with Matt Lauer. Now 45, she was an immediate hit, her perky smile and joshing manner with co-workers masking a steely skill with hard news interviews.
"Today" became one of NBC's most profitable shows as more viewers sought news updates in the morning instead of the evening. For many weeks, it had more viewers than ABC's "Good Morning America" and "The Early Show" on CBS combined.
Since the departure of executive producer Jeff Zucker a year ago and, especially, since Sept. 11, "Today" has struggled for its footing. Its lead of 630,000 viewers over "Good Morning America" the week of Dec. 3 was the closest any rival had been to "Today" in five years.
Couric was quietly considering her options with her contract due to expire, including the possibility of starting her own syndicated daytime talk show. Ultimately, she said she determined that morning television, and network television, was where she belonged.
Couric has reportedly been making between $5 million and $7 million annually in a contract that expired next year. Of her new contract, she said, "If NBC thinks it's fair, I think it's fair."
The early morning wake-up calls can be a grind, she admitted, but the widowed mother of two daughters said it was ideal for her family.
"It's hard to get up every morning for 10 years, but if you love your work, once you wipe the sleep from your eyes and get in the shower, it just becomes another day," she said.
Copyright 2018 The Associated Press. All rights reserved. This material may not be published, broadcast, rewritten or redistributed. We strive to uphold our values for every story published.