Sherry Emerson is upset that someone took two pug puppies from her business, Pet World, overnight Thursday.
She's even more worried that the thieves didn't steal anything to care for the dogs.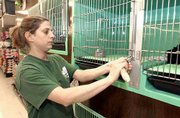 "It doesn't appear they stole anything for them no food or anything," she said. "It would have been more comforting if they had."
Now Emerson is on a quest to find the puppies, valued at $600 each. She said pug puppies are "delicate" and require special care.
Between 9 p.m. Thursday and 7:50 a.m. Friday, someone broke the glass from the door of Pet World, 711 W. 23rd St. The intruder pried a cage open, taking the pugs both 9-week-old females and apparently nothing else.
Lawrence Police dusted the store for fingerprints Friday, and Emerson called area veterinarians to keep them on the lookout for the dogs. She doubted anyone would purchase the dogs without their registration and vaccination papers.
Emerson, who owns the store with her husband, Tim, said they had a parrot stolen about 1 1/2 years ago.
The pugs are rare in Lawrence, she said, with only a few breeders. That should make them stand out.
But she said she's mainly concerned the pugs won't be cared for properly.
"They get malnourished really easy," she said. "The way their skin and coat is, they have to have a perfectly balanced diet. Because their face is so flat, they're really prone to respiratory or eye problems. They're fine as long as they're properly cared for. If not, their health could really go downhill."
Copyright 2018 The Lawrence Journal-World. All rights reserved. This material may not be published, broadcast, rewritten or redistributed. We strive to uphold our values for every story published.