The looming state budget crunch continues to leave its mark in Lawrence and other areas in Kansas.
Bert Nash Community Mental Health Center announced plans Monday to eliminate three administrative positions and to cut in half a counseling program that helps juvenile offenders stay out of trouble.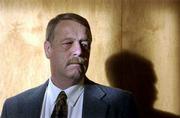 The cuts, officials say, are needed to offset persistent shortfalls in state funding.
"Basically, we were told we'd be getting some additional funding this year, and now it looks like we'll be getting about half of what we were told to expect," said David Johnson, chief executive officer at Bert Nash.
Johnson, who joined Bert Nash's staff in March, said he's already notified his directors of quality management and human resources their positions are being eliminated, effective Jan. 10. A one-day-a-week position also is being eliminated.
"These are 'positional eliminations.' They're not layoffs, which would imply the positions will be kept open," he said. "This isn't an easy thing to do. These are not people who aren't doing good work they're both loyal, hard-working members of our executive team."
Johnson declined to name the administrators who'll soon lose their jobs.
"I don't have their permission to do that," he said.
The administrative cuts, along with reductions in supply and equipment purchases and in community development, are expected to save about $233,000.
Halving the Multi Systemic Therapy (MST) Program for juvenile offenders should save another $300,000, Johnson said.
MST, which had about 90 youths participate last year, helps juvenile offenders resolve family problems, reduce their exposure to drugs and alcohol, and stay out of jail. It's not to be confused with Bert Nash's popular WRAP (Working to Recognize Alternative Possibilities) program within Douglas County public schools.
Johnson said Bert Nash posted a $700,000 deficit last year but put off spending cuts after being told to expect additional funding this year.
Bert Nash spends about $6.5 million, annually.
"We did get some additional funding, but it wasn't enough to make us whole," Johnson said, noting that projections fell short by about $1 million.
Most of the deficit, Johnson said, is tied to Bert Nash's funding not keeping pace with Douglas County's growing population and significant losses in caring for the poor and uninsured.
"We've been hit pretty hard," he said.
State welfare officials attributed Bert Nash's troubles to it spending money it didn't have.
"The way the formula works now, centers are paid for services after those services are provided," said Laura Howard, assistant secretary in charge of health-care policy at the state Department of Social and Rehabilitation Services. "What happened at Bert Nash, I think, is that they counted on new revenue before that revenue was earned."
Bert Nash, she said, is getting more money from the state.
"In the last nine months March through November Bert Nash earned $500,000 more in Medicaid revenue than it did in all of last year," Howard said.
Recent changes in the state's funding formula, she said, are expected to raise an additional $18 million for the state's 29 community mental health centers.
Johnson doesn't deny that Bert Nash is getting more money and that its projections fell short. But the missed projections, he said, were based on numbers supplied by SRS.
"That information turned out not to be true," he said.
Johnson said the shortfalls are part of a long-standing funding dispute between SRS and community mental health programs.
"There's an expectation that whatever the state doesn't pay for, the mental health centers can pay it for with their own money," Johnson said. "I assure you, Bert Nash does not have that kind of money. We're making these cuts to bring us up to zero."
State officials have projected revenue shortfalls of up to $300 million in the current and next fiscal years, causing many to predict enact, in some cases cuts in services affecting schools, courts and welfare programs.
Copyright 2018 The Lawrence Journal-World. All rights reserved. This material may not be published, broadcast, rewritten or redistributed. We strive to uphold our values for every story published.