OAKLAND, CALIF. — Priest Holmes gained more yards than Oakland's entire offense Sunday.
That wasn't enough to prevent Kansas City from losing for the ninth time in 12 games.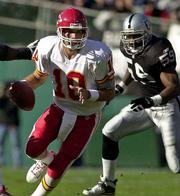 Tim Brown ran 88 yards for a touchdown on his first punt return in three years, and Regan Upshaw forced Trent Green's fumble on a two-point conversion with 1:38 left as the Raiders held on for a 28-26 victory.
While the Chiefs (3-9) are eager for a victory, the Raiders (9-3) weren't thrilled with the outcome.
"We didn't play our best brand of football in any phase," Oakland coach Jon Gruden said. "We're concerned about it. We want to get better. Our players are frustrated."
Holmes outgained the Raiders 277-264. Oakland's defense allowed 447 yards and needed late stops to win.
For the second straight week, the AFC West leaders looked nothing like the team that won the division last season and rolled up 10 straight regular-season home victories most of them blowouts before last week's stunning overtime loss to Arizona.
The offense moved sluggishly against Kansas City, Holmes became the latest running back to shred Oakland's defense and reliable Rich Gannon made a potentially disastrous fumble in the final minutes.
Only Brown's 100th career touchdown and Upshaw's big hit allowed the Raiders to survive a series of blunders and widen their big division lead.
"We're still not where we need to be, and it's very late in the season," Raiders linebacker Greg Biekert said. "We're almost in the playoffs, and we need to get going. Right now, we've got the luxury to say we're out in front, but we want to be in a great position. We won't get it like that."
The brightest spot was one exceptional play by Brown, who first gained fame as a kick returner while winning the Heisman Trophy at Notre Dame. He returned more than 300 punts for the Raiders before giving up the job.
He got it back when the Raiders cut David Dunn after an overtime fumble that led to Arizona's winning field goal. Gruden was worried about his receiver's health in that dangerous role, but Brown couldn't get injured if the Chiefs didn't touch him.
The Raiders were clinging to a four-point lead late in the third quarter when Brown sped down the sideline for a touchdown, his first on a punt return since 1991.
"That was probably one of the easiest punt returns I ever had," Brown said. "I didn't have to make anybody miss. The only question was whether I'd make it to the end zone. My guys were telling me I almost locked up. I said, 'You try running 80 yards.' "
Leading 28-20, Oakland stopped the Chiefs at the 4 with 3:03 to play when Charles Woodson broke up a fourth-down pass to Derrick Alexander in the end zone.
But Gannon fumbled with 1:49 left while stretching for a first down that would have allowed the Raiders to run out the clock.
Green, who passed for 253 yards and two scores, hit Tony Gonzalez for a 24-yard touchdown 11 seconds later. But Upshaw beat Kansas City's line around the left side and put a big hit on Green, causing a fumble.
Green and Gonzalez fumed afterward, claiming the Raiders were holding several receivers on the conversion.
Coach Dick Vermeil, meanwhile, lamented the Chiefs' lackluster kick coverage and their failures on two fourth-down plays.
"We took advantage of their weakness that they have a hard time defensing against the run, (but) even teams that lose cover kickoffs and punts better than we did today," Vermeil said.
Despite a spectacular game from Holmes, who passed the 1,000-yard rushing mark with his fifth 100-yard game, the Chiefs were handed their fourth loss in six games. Holmes rushed for 168 yards and a TD, and caught five passes for 109 yards and another score.
"You have to credit my success to the line and the receivers today," Holmes said. "We decided to come off and get on top of their linebackers and get me some room."
Jerry Rice became the first NFL receiver with more than 20,000 yards receiving on a 9-yard catch late in the second quarter.
Notes: Oakland took a 41-40-2 lead in the former AFL rivals' series. ... Rice caught an 8-yard TD pass his NFL-record 195th career score 36 seconds before halftime. ... The game nearly turned twice with 5:33 left. Eddie Kennison, who signed with the Chiefs earlier in the week, let a pass bounce off his chest at midfield. It was intercepted by Travian Smith, but Kennison then stripped the ball from Smith, giving it back to Kansas City.
Copyright 2018 The Associated Press. All rights reserved. This material may not be published, broadcast, rewritten or redistributed. We strive to uphold our values for every story published.