The mission: Buy gifts for 10 people on your Christmas list.
The catch: You've only got $100 with which to do it.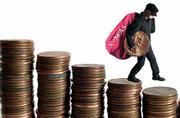 In other words, you've got to select and purchase gifts for your whole gang and limit each item to $10 or less.
Anyone who's gone shopping lately can tell you $10 doesn't go very far these days. But, with a little creativity, persistence and thoughtfulness, it's possible to get the job done.
A recent foray to downtown Lawrence stores armed with a list of imaginary friends and family, and an equally imaginary $100 proves that this challenge can be accomplished with style and a few pennies to spare.
Here are the people on your list: Grandma and Grandpa, who are in their 70s; Mom and Dad, in their 40s to 50s; a teen-age boy; a 6-year-old girl; your 2-year-old cousin (a boy); a favorite teacher man or woman; a pet dog or cat; and your girlfriend.
That's a tall order.
But here are a bunch of gift suggestions almost all under $10, or a shade above that could satisfy everyone on our list.
Tea and aromatic candles
Let's start with Grandma.
She might enjoy a charming Mini Italian Garden a kit with a palm-size, terra cotta clay pot; two filled herb bottles; a garden marker; seeds for oregano, chives or basil (your choice); a peat pellet; and instructions. Available at Borders Books Music & Caf700 N.H. Cost: $9.99.
Borders also sells a Mini Tea Garden that Grandma might like, also for $9.99, that includes: two tea cups, peppermint seed packet, mesh tea ball, tea bag, peat pellet, and instructions.
Another direction you could take for Grammy's gift would be a Barganza & Couture beaded and embroidered, cloth-bound journal with a floral pattern on the cover. Available for $10 at Natural Way, 822 Mass.
For Gramps, why not consider buying a ceramic coffee mug, handmade by Lawrence artist Pamela Loewenstein, for $8. And accompany it with $2 worth (enough for 2 ounces that's plenty) of Xanadu Tibetan Raspberry Exotic Tea. Both available at La Prima Tazza, 638 Mass.
Now let's find something for Mom.
How about a box of Marcel Schurman Fine Paper Holiday Cards, with 20 cards and envelopes. A selection of different, appealing designs are available at the Topiary Tree, 716 Mass., for $9.95 per box.
Also for Mom, the Topiary Tree offers a line of supremely fragrant Village Candles, in heavy glass jars, that come in an almost mouth-watering variety of scents: warm apple pie, carrot cake, apples in oak or sugar cookie, to name a few. Or stick with poinsettia or Winter Wonderland aromas. Cost: $9.99.
Hopscotch and baby books
Here's a tough one: locating a good gift for a teen-age boy. Who knows what they like?
Well, you couldn't go wrong with a $10 gift certificate to apply toward any purchase at the Game Guy, 7 E. Seventh St., a major hangout for the video-game crowd.
Or go to Hobbs, 700 Mass. The eclectic store offers a cornucopia of stuff a teen-ager would go for, such as a pack of Paul Frank enameled buttons for backpacks or jackets that say things like "I'm a Mess" or "Wreck 'n Roll." Cost: only $8.
A teen-age boy might also get a kick out of an Etch-A-Sketch Game Pen a writing utensil that features a fist-sized Etch-A-Sketch board on the nonwriting end of it. Perfect for those boring classes, offered at Hobbs for only $7.
The store also has something great for that 6-year-old girl on the Christmas list: a hopscotch kit in an old-fashioned tin box, featuring a 20-page handbook, four giant sidewalk chalks to mark your squares and a "Hoppy Taw" disc to toss to get the game started. Cost: $10.50.
Then there's the 2-year-old baby cousin to think about.
The Raven Bookstore, 8 E. Seventh St., has just the right thing. How about "The Very Hungry Caterpillar," a toddler book. Sturdy and drool resistant, for $9.95.
Or buy "Curious George" by H.A. Rey, a Carry-Along Book and Cassette Favorite, featuring a dramatized reading with lively music and sound effects. The package says it's for children ages 3 to 8, but Raven owner Pat Kehde says it will do just fine for a 2-year-old. It's also $9.95.
Another Kehde pick for the baby cousin: "Share a Story: My First Book and Tape The Big Red Barn," by Margaret Wise Brown. Cost: $9.95.
Nose rings and chocolate
Now, the all-important gift for the girlfriend. You're only spending $10, so hopefully she's good-natured.
Shark's Surf Shop, 813 Mass., sells a large variety of necklaces and chokers made of metal, beads or shells that are a hot item among the store's target crowd of young customers. Only $9.95.
Or go with a lovely, 16-gauge steel nose ring normally $20; now on sale for only $10. She'll adore you.
Natural Way might have gifts that are more her style, such as a selection of whimsical, sterling-silver or surgical-steel earrings made by Far Fetched. There are several pairs that cost $10.
Natural Way also offers multistrand bracelets of brightly colored beads and gemstones from GeoJewelry for $10.50.
Don't forget the pet on your Christmas list. The Bay Leaf, 725 Mass., carries fancifully decorated, stoneware dog dishes by Signature for $10.95. The store also has cute, waterproof kitty placemats for only $3.25, so you can afford to buy one for each of your three felines and stay on budget.
For that favorite teacher, check out The Bay Leaf's collection of SoapRocks highly fragrant, chunky bars of soap that resemble stones and minerals.
For $10.50, you can choose among rose amethyst, lapis lazuli, turquoise, jade and citrine.
And lastly, Dad. Why is it that fathers are always the hardest to shop for?
If Dad has a sweet tooth and an appreciation for fine foods, Au Marchhe European Market, 21 W. Ninth St., has beautiful boxes of Lindt Gourmet Chocolate Truffles, 3.9 ounces per package, for $9.85.
Or go with a Bahlsen Rum Stollen, a one-pound German holiday cake with raisins and candied orange and lemon peel, for $9.85. Also comes in marzipan or marzipan and hazelnut cream.
The Etc. Shop, 928 Mass., has some neat handpainted resin Jayhawk statuettes that can serve as Christmas tree ornaments or a desktop knick-knack for $10.95.
Or appeal to Dad's sense of patriotism and buy two quality, enameled lapel pins, $4.95 apiece, depicting a red-white-and-blue ribbon or a flag-bedecked silhouette of the United States.
That's it 10 gifts for 10 people for $100 (give or take a dollar here and there).
Mission accomplished.
Copyright 2018 The Lawrence Journal-World. All rights reserved. This material may not be published, broadcast, rewritten or redistributed. We strive to uphold our values for every story published.