Fancy accommodations have always been a low priority for me when I travel. So on a recent vacation in San Francisco, my husband and I booked a private room at a hostel, as we had done before in Hawaii, New Mexico and other locales.
We weren't disappointed. Our total nightly bill was $66 for a clean, quiet double that included a private bathroom, compared with the $90 and $100 rates quoted to us for nearby budget hotels.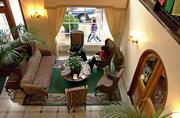 There are more than 125 hostels in the United States, but this type of traveling remains foreign to most Americans. Many people associate hosteling with backpacking through Europe or with barracks-style quarters that appeal only to unmarried, college-age travelers who can't afford better.
The truth is more complicated. Although hosteling originally focused on encouraging young people to travel by establishing cheap, safe lodging Hostelling International-American Youth Hostels' motto is "to help all, specially the young, gain a greater understanding of the world and its people" the amount of private lodging has expanded in recent years so that families and older travelers feel welcome.
It has also become easier to find and book hostels, thanks to the Internet. Hostels are not hotels, however. Private rooms are still limited in number, with cheaper dorm-style accommodations remaining the norm.
Mix and mingle
Educational programming and other activities designed to promote friendship and tolerance also remain key parts of hosteling. For example, the hostel we stayed at in San Francisco offered a variety of mixers, ranging from weekly pancake breakfasts and spaghetti suppers to tours of wine country and city neighborhoods, to help visitors learn about the area they were visiting and meet each other.
None of the activities was mandatory. But many hostelers do participate in at least one during their stay, simply because the programs tend to be inexpensive (usually less than $10 a person) and quite good.
The free walking tour we took of a San Francisco neighborhood was interesting for what we learned and the people we met visitors from places like Australia and the United Kingdom. At least half the tour participants were older than 30, including a retired couple in their 60s. Also, more than half of the guests we met at our hostel were older than 40.
Hostel activities and atmosphere differ from site to site, but that's part of the fun and the appeal of this type of traveling. My husband once went on a canoeing trip in Alaska sponsored by a local hostel. Other hostels feature natural hot springs or offer lodging in lighthouses or railroad cabooses.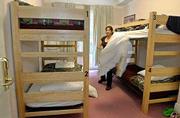 The quality of lodging also varies. A double at a Santa Fe, N.M., hostel we stayed at a few years ago was bare to the point of being a double bed with thin white sheets on it. A few hours away in Taos, the hostel's private double was nearly twice as big and festooned with colorful blankets and other decorations that made the room feel more like a bed-and-breakfast.
In Honolulu, the double turned out to be two bunk beds in a room the size of many suburban home's bathrooms with a shared bath. It was private, but not exactly romantic.
Prices fall in a wide range, from $30 for a double in more rural areas to the $66 or higher in more expensive, urban areas. Single accommodations, in which several people share a room and bath, usually cost between $15 and $25 per day.
Interaction with others is encouraged by the community kitchen, where hostelers can cook and store food as long as they clean up after themselves. There's also usually a lounge with a TV and, these days, Internet access.
Basic accommodations
Here are a few other issues to be aware of. Most U.S. hostels are smoke-free; food and alcohol are usually not permitted in rooms. Private rooms also usually lack phones and TV, although the hostels will usually take messages left for you at the main desk.
Alarm clocks, hair dryers, soaps or other toiletries are generally not provided, and guests may be required to rent linens and towels for a few dollars. Urban hostels frequently offer daily maid service for rooms; in other locations you'll be expected to help out with a minor chore, such as taking out the trash.
Also, some hostels may close during the day, requiring guests to be out of their rooms from 10 a.m. to 3 p.m., for example, although luggage can stay. Finally, some hostels require membership in the various national and international hosteling organizations, although that can usually be waived for a fee.
You may want to ask about location and parking, too, particularly for urban hostels. Our San Francisco hostel was on the edge of a downtown-area neighborhood some people might not feel comfortable in after dark, although we thought the building was extremely secure and the savings sufficient to compensate for any late-night cab fares we'd pay to return to the hostel after an evening out.
For me, the lure of hosteling has been the chance to travel to interesting places and spend our money on gourmet meals or other treats rather than on a fancy hotel room my husband and I don't intend to spend much time in anyway. We've also enjoyed being in an atmosphere where sociability and talking with others is encouraged rather than the sterile stuffiness and isolation that frequently accompany hotel or motel traveling.
Although there are moments when we've wished for the convenience of an in-room phone or TV, our hostel traveling has left us with few regrets. Hostels are good options for travelers who plan to spend most of their vacation outside of their rooms and value budget over luxury.
Copyright 2018 The Associated Press. All rights reserved. This material may not be published, broadcast, rewritten or redistributed. We strive to uphold our values for every story published.