The glow from Sigma Phi Epsilon fraternity is hard to miss.
Drive past the corner of 17th and Tennessee streets after dark, and you're sure to spot thousands of multicolored Christmas lights strung from lawn to tree and back again, and the word "Noel" written in lights on the roof.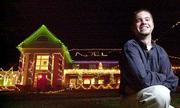 "I don't know if 'awesome' is the word for it. 'Tacky' maybe," said Ryan Lang, fraternity house manager and KU sophomore. "It screams Christmas."
If the wiring inside were anything like the mayhem outside, you might also think it screams fire hazard. But fraternity members slaved for three days to perfect the light display and to ensure it wouldn't cause a blaze.
For people throughout the city, getting into the holiday spirit means hanging lights, adorning Christmas trees and burning candles. But hastily strung wiring and unattended flames also can mean fires.
Nationwide, residential fires are 14 percent more likely to happen during the holiday season and nearly 30 times more likely to cause death, according to the United States Fire Administration.
Christmas trees
Lawrence doesn't seem to follow the national trend for increased fires during the holidays, but blazes around Christmas time tend to spark more attention, said Lawrence Fire Marshal Rich Barr.
"They take on an air of being more tragic during the holiday season because everyone is more in the holiday spirit and hoping things are good," he said. "Then, when a tragedy befalls someone, it seems to impact the community more."
There haven't been any Christmas tree fires in Lawrence since 1997, Lawrence Fire Chief Jim McSwain said. Barr recalls one that occurred on Haskell Avenue several years ago. No one was hurt, but the gifts under the tree burned up, he said.
Keeping fresh-cut trees watered is the best way to prevent them from burning.
Eric Walther, who co-owns Strawberry Hill Christmas Tree Farm on U.S. Highway 40 with his wife, Lyn, said a tree will absorb about a quart of water a day for every inch of its trunk diameter.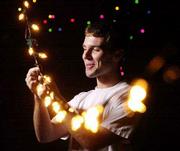 The Walthers advise customers to select a fresh tree with needles that aren't brittle and to keep it away from sources of heat or flame.
"A tree has never set a fire by itself," Lyn Walther said.
Candles
Fires caused by candles are more common in Lawrence. There were three in the year 2000 one each in May, September and December and five in 1999 one each in January, February and March and two in November, McSwain said.
"Candles typically get a greater incidence of use during the holiday season because of various ceremonies and people using them in their homes to create scent," Barr said. "We tell people if you're going to leave the room for any period of time at all ... you should extinguish the candles."
Although candle manufacturers aren't required to include safety labels with their candles, many do so voluntarily.
Bob Werts, owner of Waxman Candles, 609 Mass., said his store places safety labels either on its candles or the candle packaging and also distributes handouts on safe candle use.
"It's just common sense that you tell your customers about your product and how to use it," Werts said. "Holidays are tough because you've got people going five different directions at once."
Waxman's primary advice to customers is to burn candles on a noncombustible surface.
Lights
The trouble with Christmas lights, Barr said, is that they're not designed to be used all the time.
"So the materials are not as sturdy and are very prone to short circuits," he said.
Power strips and built-in circuit protection are must-haves if you're going to hang a lot of lights, Barr said. And you should never connect more than three strands of bulbs together.
Sigma Phi Epsilon used outdoor extension cords and surge protectors to link its $400 worth of lights, which are run to eight different locations in the house, Lang said. No more than three strands of lights are connected together, and no single outlet supports more than one cord.
"We were very careful," Lang said. "I was in charge of making sure we didn't blow anything up."
But sometimes even the best-laid plans can go awry. That's why you should invest in a working smoke detector before you ever stock up on holiday decorations, Barr said.
"If a fire does occur, we can deal with the presents being replaced and the house being rebuilt," he said. "But we want to make sure everybody gets out."
Copyright 2018 The Lawrence Journal-World. All rights reserved. This material may not be published, broadcast, rewritten or redistributed. We strive to uphold our values for every story published.