Washington — Amtrak's high-speed train service between Washington and Boston is expected to pass the million-passenger mark sometime this month after a year of operation.
Acela Express billed as America's first high-speed train, capable of speeds up to 150 mph experienced a surge in ridership after the Sept. 11 terrorist attacks discouraged many from traveling by airplane.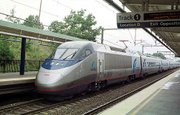 The service, which is still being phased in along the Washington-New York-Boston corridor, ran below Amtrak's projections for much of the year but has exceeded them by 9 percent since Oct. 1, according to information released Saturday by the railroad.
As of Nov. 30, Acela Express trains had carried nearly 857,000 passengers. Service began Dec. 11, 2000, after more than a year of delays. At the time, one train made a daily roundtrip between Washington and Boston.
By August, Amtrak says, one Acela Express train was selling out on an average weekday. Now, eight to 10 trains 35 to 40 percent of those in service are selling out on an average weekday in both first class and coach.
Ticket revenue from Acela Express was approaching $100 million on Nov. 30. Amtrak projects that, once at full strength, Acela Express will carry nearly 3.9 million riders, generate $300 million in revenue and net $180 million each year. Government watchdogs have called Amtrak's predictions overly optimistic.
Amtrak had hoped that profits from Acela Express would help it meet an order from Congress to operate without government subsidy by Dec. 2, 2002.
But as the service celebrates its first anniversary Tuesday, Amtrak finds itself at a crossroads. The federal Amtrak Reform Council has declared Amtrak will not achieve self-sufficiency by the deadline, and early next year it will give Congress a plan for a restructured national rail program that may or may not include Acela Express.
As of November, Amtrak had received 15 of the 20 trains it had ordered.
Copyright 2018 The Associated Press. All rights reserved. This material may not be published, broadcast, rewritten or redistributed. We strive to uphold our values for every story published.