Tampa, Fla. — The Tampa Bay Lightning didn't blow another strong outing by Nikolai Khabibulin.
Khabibulin stopped 27 shots for his fifth shutout of the season, and Fredrik Modin scored his 100th NHL goal as the Lightning beat the Columbus Blue Jackets 1-0 on Thursday night.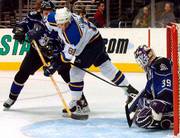 The Tampa Bay goalie had allowed just two goals in his previous two starts, but the Lightning lost one game and tied the other.
"Tonight, we didn't waste it," Tampa Bay coach John Tortorella said. "I thought Nik was very good, and we got two points. On other nights, our goaltending was very good and we came away empty."
Khabibulin, who made strong saves on Lyle Odelein in the second and third periods, tied the Tampa Bay single-season shutouts record of five set by Daren Puppa during the 1995-96 season.
"You can only control certain things," Khabibulin said. "When I go out, I try and do my job. If for some reason we don't score, or something isn't going right, it doesn't matter. You still have to do your job."
Tampa Bay may have gotten a break with 2 1/2 minutes left when Columbus' Robert Kron knocked a loose puck into the net, but the goal was disallowed because officials had whistled a stoppage in play.
"As soon as it dropped down, I just banked it in and I think the whistle came at the same moment as I banked it in," Kron said.
The officials did not review the play. "That was a goal," Columbus coach Dave King said.
Maple Leafs 6, Rangers 3
New York Gary Roberts scored three goals to lift Toronto over New York and become just the sixth player to score 350 goals and amass 2,000 penalty minutes.
Mats Sundin added a goal and an assist in the third period, and Shayne Corson also had a goal for Toronto, which tied the Rangers and New York Islanders atop the Eastern Conference with 37 points.
Sundin assisted on Jonas Hoglund's goal at 12:24 of the third to put the Maple Leafs up 5-3. The Toronto captain earlier back-handed in a long rebound at 9:39 of the period.
Islanders 2, Flyers 0
Philadelphia Mariusz Czerkawski scored twice, and Garth Snow made 33 saves for his 13th career shutout as New York beat Philadelphia. The win snapped a four-game winless streak (0-2-2) for the Islanders.
Making only his fourth start of the season, Snow had 33 saves and was rarely tested in registering his first shutout of the season, 13th of his career and second against the Flyers, one of his former teams. It was also his first shutout since Jan. 21 at Chicago, while with Pittsburgh.
Penguins 4, Bruins 1
Boston Stephane Richer had two goals and an assist, and Johan Hedberg made 28 saves as Pittsburgh beat Boston. Milan Kraft and Jan Hrdina also scored for Pittsburgh, which last beat the Bruins two years ago and snapped a seven-game losing streak in Boston.
Capitals 3, Thrashers 3
Atlanta Dmitri Khristich scored two goals, and Olaf Kolzig made two saves in the final seconds of overtime as Washington tied Atlanta. Dainius Zubrus also scored for the Capitals, who had their four-game winning streak snapped. Lubos Bartecko, Ilya Kovalchuk and Hnat Domenicelli scored for the Thrashers.
Predators 4, Senators 2
Nashville, Tenn. Defenseman Andy Delmore scored two power-play goals as Nashville beat Ottawa for the 100th victory in franchise history. The fourth-year team reached the mark in its 274th game. Vladimir Orszagh and Greg Johnson also scored for the Predators.
Sharks 3, Flames 1
Calgary, Alberta Owen Nolan had a goal and an assist, and Evgeni Nabokov made 24 saves as San Jose beat Calgary. Niklas Sundstrom and Adam Graves also scored for San Jose, which is 4-0-1 in its last five and moved three points ahead of Dallas for first place in the Pacific Division.
Canucks 3, Ducks 2
Vancouver, British Columbia Todd Bertuzzi scored twice and had an assist as Vancouver snapped a four-game winless streak.
Blues 1, Kings 1
Los Angeles Bryan Smolinski scored a power-play goal in the second period as Los Angeles tied St. Louis, leaving the Kings winless in their last 10 home games against the Blues. Defenseman Jaroslav Modry earned his 11th assist in 10 games for the Kings. Cory Stillman scored for the Blues, who are 4-1-2 in their last seven games.
Copyright 2018 The Associated Press. All rights reserved. This material may not be published, broadcast, rewritten or redistributed. We strive to uphold our values for every story published.