The Rebel will be here Saturday. So will Kid USA, Smack Daddy and Bloodlust.
They're part of a professional wrestling card that's coming to the Coffin Complex at Haskell Indian Nations University. Doors open at 7 p.m.; matches start at 8 p.m.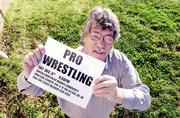 "There are people out there who wouldn't cross the street to see a wrestling match, and then there are those who wouldn't think twice about driving an hour and a half. We're hoping we can get that second group to turn out," said Dana Carter, an adult student at Haskell who's sponsoring the event on behalf of the university's baseball club.
The evening's matches are sanctioned by the National Wrestling Alliance, a Kansas City-based association that organizes matches throughout the Midwest.
Carter said card include a match between midget wrestlers Lil' Italian Stallion and Mad Mex.
Other matches include The Rebel vs. Kid USA, Smack Daddy vs. the Assassin, and the evening's main event, Johnny Raki-Hara vs. Bloodlust.
Cater said National Wrestling Alliance officials hope to line up some women wrestlers in time for Saturday's event.
Attempts to reach National Wrestling Alliance officials for comment Thursday were unsuccessful.
According to the National Wrestling Alliance Web site, Bloodlust is the group's current heavyweight champion for Kansas. Kid USA is the state's Junior Heavyweight Champion.
Tickets are $10 for ringside, $8 general admission. Tickets for children ages 6 through 12 are $4.
Carter said he plans on setting up 300 seats. National Wrestling Alliance is supplying the ring.
"This should be a lot of fun," he said.
Carter said he and other baseball club members have already sold enough tickets to break even.
"Everything else we get will be money from heaven," he said.
The baseball club receives no financial support from Haskell. Though the university fields a women's softball team, it does not have a men's team.
Copyright 2018 The Lawrence Journal-World. All rights reserved. This material may not be published, broadcast, rewritten or redistributed. We strive to uphold our values for every story published.