For the last seven years, Don and Dee Clement have been the Lawrence area's first couple of Christmas.
They've been a common sight during holiday parties at businesses, schools, nursing homes and private residences, where they've served as a very convincing Santa and Mrs. Claus.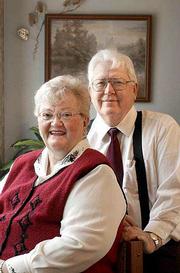 By Don's estimation, there are likely hundreds of photos in homes throughout town that show the couple posing with children who came to sit on Santa's knee.
And for many of those children, the Clements really are Santa and Mrs. Claus.
"They would look up at us, their eyes would glisten. They were 100 percent believing we were the Clauses," said Don, 71. "A lot of kids would reach up, tug on my beard and say to their parents, 'He's real!'"
The white, fluffy beard that sealed the deal for so many children was, in fact, real. Don used to let it grow out during the holiday season to complete his Santa outfit. (He has since shaved it off.)
His tummy is the real thing, too. This Santa doesn't need to stuff a couple of pillows up his shirt to achieve that full-fledged, jovial look.
On a new mission
The couple's caring attitude, bubbly personalities and genuine love of children are enough to convince even the most jaded youngster that they are authentic, straight from the North Pole.
But the Lecompton-based Clauses are hanging up their fur-trimmed red caps at least for now.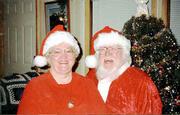 For the first time in seven years, they won't be available to take gift requests from area children for Christmas.
Instead, the Clements will leave today for Salt Lake City, where they will receive 10 days of training for an 18-month stint in Costa Mesa, Calif., as missionaries for The Church of Jesus Christ of Latter-day Saints.
The Clements, due to arrive Dec. 23 in Costa Mesa, will work 40-hour weeks as teachers at a church outreach center that serves Mormons ages 18-30. They will teach religious education courses, lead marriage classes and generally help young Mormons keep their lives on the right track.
Like other missionaries for the church, the Clements will receive no payment for their work, must foot the bill for all their expenses and are expected to stay on the job until their time is up.
"This will be the first Christmas in 44 years that we haven't had our family around us," Don said.
"We're going to walk on the beach Christmas Day. We're going to have more time for each other," added Dee, 63.
The couple belong to the Lawrence 1st Ward, which is part of the grouping of Mormon congregations called the Topeka Stake.
He's got the look
The Clements, who are retired, originally donned their Christmas costumes for fun and to make a little extra money.
"We put an ad in the Journal-World saying, 'Santa for Hire,'" Dee said. "We got a lot of gigs from that. We've gone to nursing homes and the hospital. One man hired us to come to his house. He proposed to his fiancand had Santa give her the ring."
It wasn't much of a stretch for Don to play the role of St. Nick.
"Look at him he's the perfect Santa Claus," Dee said. "He looked like Santa, he acted like Santa and he would play Santa Claus for our grandchildren."
The line of children they faced on the job often seemed endless. And little ones are often skittish the first time they meet Santa, so Mrs. Claus would have to reassure them.
"Some kids are just scared of strangers. And who runs around in a red suit?" Dee said. "It's also very tiring. It does wear us out."
The Clements have seven children, ages 30 to 47, five of whom live in Lawrence. They also have 19 grandchildren and one great-grandchild. While the couple are away, one of their daughters and her husband will stay in their home.
The Clements, who have served for six years as workers in Mormon temples in St. Louis and Omaha, Neb., are deeply motivated by their faith.
"It's a way of life," Dee said. "It's not something that you just do on Sunday. It's the way you talk, act and feel."
"When we go to the temple and work, you get such a feeling of peace, love and contentment," Don added.
The Clements will miss their family while they're gone, as well as the pleasures of serving as Santa and Mrs. Claus.
But they're looking forward to where their next ride is taking them to do mission work for the church.
"It's not a sacrifice. It's a joy to be able to do it," Don said.
Copyright 2018 The Lawrence Journal-World. All rights reserved. This material may not be published, broadcast, rewritten or redistributed. We strive to uphold our values for every story published.