Goshen — A man returned to the factory where he worked after a dispute and opened fire Thursday, killing a co-worker and wounding six others, authorities said.
A SWAT team later found the gunman dead inside the simulated-wood factory with an apparently self-inflicted gunshot wound. A shotgun was under his body.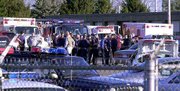 "All I'm aware of is there was a dispute, and he left the property and came back," Police Chief Terry Schollian said.
The gunman had apparently just been fired or was about to be fired from the Nu-Wood Decorative Millwork, police said.
Six people were wounded, the chief said. One victim was hospitalized in critical condition and another in serious condition. Two were in fair condition, and the others were treated and released.
The gunman was identified by the mayor as Robert Wissman, 36, of Goshen. He lived about 2 miles from the plant.
As many as 35 people were inside the plant at the time of the shootings, but most escaped unharmed, Schollian said. Earlier, the mayor and hospital administrators said they feared 30 to 35 people had been shot.
One employee called police from inside the factory to advise what route the SWAT team should use to enter the building, the chief said.
Tammy Funderburk of nearby New Paris said she spoke briefly by cell phone with her 18-year-old son, who worked at the factory and escaped uninjured.
"He saw the gunman coming and he had a big rifle," Funderburk said. "He saw the gunman shooting people and he ran out the back door as fast as he could."
The shooting jolted this northern Indiana community of 29,000 about 100 miles east of Chicago. An elementary school kept its pupils inside and Goshen College, a small school run by Mennonites, told students and faculty to stay indoors.
Alerted by a 911 call from another business nearby, police and SWAT teams surrounded the factory and cordoned off the industrial park. Twelve nearby plants were evacuated.
"The place is smothered in cops," Chris Barouska, a parts manager at a neighboring Ingersoll-Rand factory, said as authorities scrambled to find the gunman.
By late afternoon, people were leaving the building with their hands on their heads and rescue crews removed people on stretchers.
Nu-Wood makes a polyurethane-based product that resembles white pine and is used as decorative trimming by homebuilders and remodelers. The company its name from GR Plastics Inc. earlier this year and leases 40,000 square feet at the Goshen building.
"It's not like an assembly line situation," said Herb Stein, a Nu-Wood manufacturer's representative who works out of his home in Akron, Ohio. "Everyone knows each other, and everyone intermixes with each other."
Copyright 2018 The Associated Press. All rights reserved. This material may not be published, broadcast, rewritten or redistributed. We strive to uphold our values for every story published.