If you're at all interested in gardening, listen up.
The city of Lawrence waste and recycling division is giving away nutrient-rich compost. All you have to do is show up at the recycling site at 901 E. Eighth St. between 8 a.m. and 1 p.m. today and Saturday.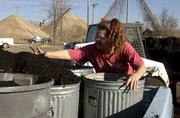 If you want a bucketful, take a shovel. If you have a pickup truck, they'll fill it for you.
It's free take as much as you want.
"It's good stuff no, it's more than good. It's really, really good," said Mollie Mangerich, operations supervisor with the city's waste and recycling division.
For years, the city made compost from leaves and grass clippings collected throughout the city on Monday mornings. But this is the first year it's being shared with the public.
"Until now, the product has been kind of rough," Mangerich said. "I mean, it's OK for the parks department they love it. But it wasn't something you'd want to give to the public. It had a lot of sticks and rocks in it."
Not anymore. Mangerich said her office used grant money to buy equipment a tub grinder, a front-end loader and a windrow turner to both speed up the composting process and enhance the product.
"It's much, much finer than it used to be," Mangerich said. "It's darker, it's loamier, it's top-of-the-line stuff."
The new equipment cost about $200,000.
Because the compost includes grass clippings, it is not completely free of residues from herbicides, pesticides and fertilizers.
Mangerich said more than 350 people gardeners, mostly showed up for the first giveaway in November.
"It was huge," she said.
The compost that's ready now, she said, has been about three or four months in the making. More will be available in the future.
To reach the site, take Eighth Street east to the railroad tracks past Pennsylvania Street. Cross the railroad tacks. The compost facility is on to the south, across from Penny's Concrete Inc. sand office, which is located at 900 E. Eighth St..
Copyright 2018 The Lawrence Journal-World. All rights reserved. This material may not be published, broadcast, rewritten or redistributed. We strive to uphold our values for every story published.