Manhattan — Authorities found the body of one Kansas State University freshman in Tuttle Creek Lake on Thursday, and two others were believed to have died in a boating accident on the northeast Kansas reservoir.
A search for the three, who had taken a sailboat out Tuesday afternoon, began about 5 a.m. Thursday on the southern shoreline and was suspended about 12 hours later as night fell.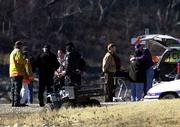 The body of Timothy Bennett, 19, of Kansas City, Mo., was recovered with a life jacket about 9:15 a.m. in Carnahan Cove, about one-half mile from where the capsized boat was found a short time earlier, authorities said.
Kansas State officials identified the other two as Kyle Chapman, 17, and Christopher Shipley, 18, both of Olathe.
Brian McNulty, operations manager of the 12,000-acre lake, said the search would resume about 8 a.m. today, but in recovery rather than rescue mode, with four boats on the water and officers on horseback along the shore.
McNulty said the other two students were believed to have died.
"Based upon the fact that we haven't found them on the shoreline, we presume they are under water," he said.
"We've talked to the families and told them that in all likelihood they didn't make it," he added.
Chapman's yellow, 15 1/2-foot racing sailboat was spotted about 9 a.m. Thursday by a Kansas Highway Patrol helicopter. The keel and rudder were found detached from the main portion of the boat in separate areas of the cove, officials said.
The search included 50 rescue workers, six boats and two helicopters. Officials began searching Wednesday afternoon, with the highway patrol searching the lake with an infrared-equipped helicopter.
The students had not been seen since they took the sailboat out Tuesday afternoon. Their empty boat trailer was found at the Blue Valley Yacht Club, and their shoes were found on the dock, said Steve French of the Riley County Police Department.
Chapman is an experienced sailor, the school said in a statement. Bennett is majoring in environmental design, Shipley in animal sciences. All were Eagle Scouts, police said.
Boaters have been enticed to area lakes in recent days, with unseasonably mild temperatures and wind providing ideal conditions for sailing. Temperatures at the lake approached 70 degrees amid high winds on Tuesday. Thursday's search was done under sunny skies, with temperatures in the high 50s.
McNulty said this was the first fatal boating accident on Tuttle Creek Lake since he took over as operations manager in January 1999.
Copyright 2018 The Associated Press. All rights reserved. This material may not be published, broadcast, rewritten or redistributed. We strive to uphold our values for every story published.