Sports Illustrated has again struck out against the sporting world.
You've heard of the curse of the Sports Illustrated cover, right? No matter how huge a favorite a team is, as soon as the magazine puts that team or athlete on its cover, they're bound to lose the next week or suffer some kind of perverse decline. SI could declare oxygen the No. 1 ranked favorite gas among athletes, and within a few days a scientist would discover that helium can make nine out of 10 athletes fly. Sorry, oxygen. The cover jinx strikes again.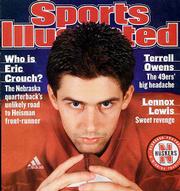 The curse reared its ugly head again just two weeks ago when Nebraska quarterback and Heisman shoe-in Eric Crouch appeared on the cover. Guess what happened to Nebraska the very next game? Not only did they get stomped by Colorado, but the Buffaloes put more points on the Cornhuskers than any team since the Truman administration.
While there is the perception that the SI cover is a national phenomena, the reality is that it only strikes on occasion. But for me personally, it occurs all the time. To prove that the publication is driving me crazy, I've documented several of the incidents where it has specifically offended my sports karma. I present to you the top five times this year that the SI cover caused me to pout like a child and throw shadow punches at the air.
l No. 5: Feb. 12 issue. XFL players were on the cover with the headline "Cheap Thrills."
Sure, I was in the minority, but I got a kick out of the wrestling mindset of the new league. (I may be the only person in Kansas who hosted an XFL championship party.) SI asked if "sleazy gimmicks and low-rent football work for the XFL?" Of course, the XFL was just as poor as the grammar of the anything-goes "names" on the back of its players' jerseys, such as "Deathblow" and "He Hate Me."
But my main problem was with SI pretending that the NFL was somehow holier than the XFL. It seems to me that the NFL had its fair share of sleaze as well. Just flip through this very same issue and read the story about 31-year-old former Green Bay Packers player Mark Chamura splashing around in a hot tub with some 17-year-old girls at an after-prom party. An idea for Chamura's new jersey: "She Sue Me."
l No. 4: April 9 issue. "Oh so sweet" was the caption, with Duke Blue Devils (and I stress the word "devils") Shane Battier and Mike Dunleavy celebrating their national championship with a warm embrace.
I've always hated Duke. But I'll admit that they were (and are) the best team in the nation and Jason Williams is unstoppable. So why can't they act tough for once, and cut back a little on the huggy-huggy mentality? They hug, they cry, they talk about how they're a family, and Battier was "the dad." So Coach K must be the mom, right? Who's the cousin in jail?
The Dukies act more like the Teletubbies than a national power. Please, no more shots of Duke players loving and sobbing on the cover. My dartboard is already full.
l No. 3: July 9 issue. "Where are they now?" cover story. The premise: Find athletes that had fallen out of the spotlight and show how miserable they are.
Let's see, the original 1972 Dallas Cowgirl cheerleaders were now ... old! Johnny Unitas spent his free time ... declaring bankruptcy! And Manute Bol ... was trapped in Africa, while his fellow countrymen died all around him! I wonder if Pete Rose was in hell yet?
But the most glaring problem with this story was in omitting my Wichita Wings the longest running indoor soccer franchise in North America which folded this year. Most importantly, how did this effect their cheerleading squad, and where are they now?
l No. 2: Aug. 27. "The most overrated/underrated in sports" issue. Most underrated rallying cry? The Rock Chalk chant. "Listen to it only once at a packed Allen Fieldhouse and try not to get goosebumps." Most underrated college basketball arena? Allen Fieldhouse.
So why no love for this issue? For the third straight year, I was passed over for "most underrated sports columnist." This reminds me, I also was once again snubbed for People magazine's "sexiest men on Earth" issue.
l No. 1: October 1 issue. Miami quarterback Jay Fiedler on the cover, with headline "coming back."
I was planning on becoming the first repeat fantasy football champion at work. The only problem: I had a lousy quarterback. Through a stroke of bad luck, I was stuck with interception-king and proven sideline crier Elvis Grbac. A move had to be made.
The third week into the season, Fiedler exploded, scoring three touchdowns in a dramatic victory. I guessed he would become the next hot QB in the league. I contacted my co-worker who had Fiedler as his second string QB. A known Chiefs fan, I offered him Tony Gonzalez and Donnie Edwards, for two reasons: 1) I hate the Chiefs and 2) any 300-pound professional man-monster who can't let go of his kiddie nickname doesn't belong on my ultra-tough Vatican City Diablos fantasy football squad. Sorry, Donnie. Call me back when you're man enough to go by Don. (Nobody still calls me "Sethy.")
The trade was made, and Fiedler was mine. Two days later, Fiedler was on the cover of SI. He has, of course, sucked ever since then, while Gonzalez and Edwards have remained two of the only three good players the Chiefs have. ... Sadly, I did not have Priest Holmes to dump as well.
Now the Diablos have gone from first to worst, and are 3-9 on the season, riding a seven-game losing streak. I'm seriously considering changing my team name from Vatican City Diablos to the Lawrence Chiefs pretty soon.
Sports Illustrated, why must you haunt me?
Copyright 2018 The Lawrence Journal-World. All rights reserved. This material may not be published, broadcast, rewritten or redistributed. We strive to uphold our values for every story published.