Though the current pop charts are topped by the sort of bland tripe that always tends to sell by the truckload, the millennium dawned with one of the best years for local music in recent memory. New releases from longtime favorites, the cropping-up of exciting unknowns and a growing national and international presence truly made it one for the record books. Granted, it wasn't all sunshine and roses: Some great bands split and new venues in Kansas City began steering larger touring acts away from Lawrence. But all-in-all 2001 really was something to write home about.
"It's getting better lately," said Filthy Jim vocalist/guitarist Seth Cole last summer ("The Filth and the Fury," June 21). "About a year or two ago it pretty much sucked ass, but everybody was still talking about how good it was."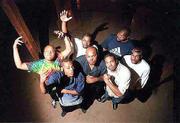 Filthy Jim (whose as-yet-released "Whisky and Porn" remains a lost classic) was one of the many up-and-comers that gigged steadily at home and afar. Other locals logging tour miles in 2001 included Proudentall, The Esoteric, Jumbo's Killcrane, The Appleseed Cast and Ultimate Fakebook. Shiner shared stages with Death Cab For Cutie, Tech N9ne with Cypress Hill and Snoop Dogg, The Creature Comforts with The Sheila Divine and The Figgs, and The Get Up Kids with Weezer and Green Day.
Locally, however, attendance at live shows continued to go up and down, and new Kansas City concert halls like The Madrid Theatre, the re-energized Uptown and The Beaumont drew major touring acts away from the Lawrence venues they would've surely played five years ago. Cowboy Junkies, The Cult, Iggy Pop and The Black Crowes all skipped Lawrence in favor of potentially larger audiences in KC. Fortunately, bands such as The Strokes, Tortoise and De La Soul still managed to make the trip West.
"Everywhere you go people are complaining about it," The Casket Lottery's Nathan Ellis says of the local music scene during a recent interview. "I don't get it at all. There's so many good bands; show attendance has been a lot better than the last two or three years."
Breakups, shakeups, makeups
Promising newcomers like Ghosty, Archetype, Fifth Ticket Fraud, Onward Crispin Glover, Bombsquad and TJ Dovebelly helped invigorate underground interest, a good thing considering the number of breakups and lineup changes that plagued local music circles in the '01.
Jose PH issued a superfunky self-titled debut in the spring, only to embark upon a summer vacation that never ended. Metal mavens Preferred Villain beat out all contenders for a slot at Day on the Hill and then split shortly afterwards. Microphone master Dove Dawg was prominently featured on Bombsquad's debut before departing the booming rap unit, and Aaron Mersman left Jumbo's Killcrane to join Last of the V8s. Thulium gave longtime guitarist Steve Nick the boot, Phat Albert's singer took off for parts unknown (replaced by PJ Barnett) and three-fifths of Sturgeon Mill bowed out of the band. Fortunately, good news came in early December: a retooled Coalesce (Sean Ingram, Stacy Hilt, James Dewees and Corey White) promised a reunion tour next spring.
Recorded history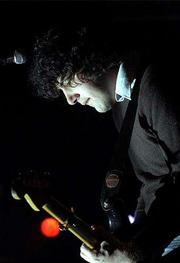 The true highlight of 2001 was the number of interesting new CDs, spanning a vast terrain that had enough room for Tech N9ne's otherworldly horrorcore, The Midday Ramblers' traditional bluegrass tones and Shiner's algebraic pummeling. Not everything was good, of course, but there was certainly plenty to choose from: Lance Fahy issued a strong sophomore effort, "Relentless," and Billy Ebeling outdid himself with two regular albums plus one for the kiddies.
Phat Albert rattled out frat-funk on its self-titled debut, Brent Berry exuded nothing but positive vibes on "Inland" and Tri State Clicc's Mylin Brimm got soulful on his first solo outing, "Cherish Life." KB Posse's standout debut combined reggae, dancehall, punk, funk and hip-hop into an infectious sonic soup, and The Get Up Kids issued "Eudora," a from-the-archives collection packed with enough great material to keep those $90,000 royalty checks rolling in.
As the year closed, Ultimate Fakebook, The Casket Lottery, Lonnie Fisher, Ready, The Anniversary, Reggie and the Full Effect, Coyote Project and The Esoteric were among those putting finishing touches on releases for the coming annum. Of the numerous discs issued this year, there were several standouts:
The Appleseed Cast, "Low Level Owl: Volume I"
The Appleseed Cast kept busy in 2001, unveiling two back-to-back albums and "Little Eyes" by Hundred Hands, which featured guitarist Aaron Pillar backed by AC singer-guitarist-organist Chris Crisci and producer Ed Rose. The highlight of these releases was the first volume of "Low Level Owl," the band's two-disc set of post-emo studio explorations. "It's kind of a chance to do some stuff that you can't normally fit into a 60-minute, conventional 10-song record," Pillar explained at the time of the CD's release ("The art of not fitting in," Aug. 23). "It was a chance to sit in the studio for a lot longer and do some weird stuff. It just stretched on and on to more reels of tape." In rock, it's a true rarity when a band's "experimental" period pays any dividends worth recalling. Rather than boring listeners to death with self-serving jazz odysseys, AC raised the bar and stretched its sound into whole new arenas on "Owl." No area group used the guitar in such artful ways Pillar's caterpillaring arpeggios continue to be the very foundation on which AC is based, and all the band members broke out the numerous studio gizmos and gadgets. Remarkably, they did so without coming across like pretentious schmucks a feat in and of itself. Thus, Appleseed Cast was not only 2001's most prolific band, it was also the year's most artful and imaginative.
Bombsquad, "Timz Up"
The debut from Bombsquad was a bubbly crunkfest, bouncing with knee-deep grooves, eardrum-bursting bass blasts and hotstepping choruses. Unapologetically thuggish, the rap crew spent most of the album talking trash, paper chasing, boasting and toasting. Fortunately, the band's diverse lineup included Big Chill and Skitzo, whose powerful singing voices added an element of genuine soul to the group's mix, helping it become one of the more popular live rap draws of 2001. "We put all heart into it," Skitzo explained last spring, just after "Bombsquad" was released ("Bring the Noise," May 24). "My main goal was to go in there and give my heart to making the verses tight or making sure if I write a hook, it's something everybody's gonna bob they head to. If my crew bob they head to it, I know the streets gonna bob they head to it." On "Bombsquad," the group's verbal firepower was set to some of the finest-produced backgrounds to come out of local hip-hop this year. At the helm was local hot-hand Will "The Weirdo" Wilson who also manned the boards for several potent cuts on Tech N9ne's "Anghellic." Wilson settles for nothing less than the best performances from those who pass through his studio doors, and on the Bombsquad disc he responded, peppering tracks like "Bounce, Rock, Shake" and "Stiffin' Yo' Neck" with stealth, silky Vocodor boogie that throbbed and burped like a Compton-bound low rider. The result was a slick effort that couldn't be hated on, even from those who lean toward the more conscious end of the hip-hop spectrum.
Clint K Band, "Three Man Show"
When local producer Brad Koehler entered Z'Gwon,th Studios earlier this year to record Clint K Band's latest release, he had to be surprised at how far the band's namesake had come. On "Three Man Show," Clint Kueffer's voice had clearly matured, sounding less affected and more natural than on previous outings. Clint K's sincerity was never in question either, and when the band kicked into any one of "Show's" breezy, buttercream choruses, things really started to take shape. Clint K Band obviously put a lot of work into its material. Hooky and memorable, without overstaying its welcome, the material on "Show" offered a crash course in the art of songcraft. The group also stood out for its refreshing lack of cynicism. "We've got the best friends in the world," Kueffer sang clear-eyed at one point without a hint of irony. The album's finest moment came right at the end with "Runaround," which began with a bang, increasing in speed and energy until the band was practically ripping plaster from the ceiling a motif that accurately describes the trio's raucous live performances.
Andrew Connor, "Nineteen Now, Always"
If there was an award for best new local artist, it would have to go to Ghosty, the Lawrence-based trio whose singer-guitarist Andrew Connor issued a sparkling solo EP late last summer. "It's (our) songs, but I wouldn't call it Ghosty at all," Connor told The Mag ("Ghost town," Sept. 15). "I do like the recording. I spent a lot of time on it, I'm really proud of it. It's sort of a document of a certain time in my life." Though "Nineteen" only contained six songs, every one was a winner. On the EP, as with Ghosty, Connor's vivid guitar phrasing provided a platform for his lyrical puzzles, rife with dry humor and a keen eye for observation. "Giving Up" found Connor summoning a board meeting inside his own head, only to have his heart pull the fire alarm at the last minute. It was this battle between reason and passion that occupied most of his time on "Nineteen." The disc's highlight, "Gentleman Conditioned," had Connor "pulling himself aside" and fleeing his baser instincts, as his Plimsoulful six-string walked a razor-wire below. It wasn't just a song, it was confusion and ambivalence set to music. In concert, Ghosty took the EP material and gave it an extra helping of energy, much of it coming from Richard Gintowt's propulsive drumming. Connor's studio debut derived its spirit from the quieter aura emanating from one of the brightest new artists on the local scene.
Kill Creek, "Colors of Home"
Any year Kill Creek releases an album is a good one and "Colors of Home" was far and away THE album of 2001 10 memorable songs and not a single ham-fisted chorus in the bunch. Instead Kill Creek buried subtle hooks and sure-footed sonic shifts within the nooks and crannies of its material, musical Easter eggs to be discovered at varying intervals. "For us it's been gradual," Born said just prior to "Home's" release party ("Don't call it a comeback," May 10). "Other people don't get to hear the two, three, four dozen songs that come between the ones on 'Proving Winter Cruel' and this. So I don't think it's a big change. To me, it feels really natural. If you look at the diversity of the record, it sort of fills in the spaces between the spectrum instead of being loud, loud, loud, soft." Ed Rose's production on "Colors" was nuanced and layered, while still allowing for maximum open air. Kill Creek also warmed up on the effort, bringing in numerous pals (Julia Shields, Tawni Freeland, The Casket Lottery) to help out. The pinnacle of this collaborative spirit was "Divorcee," featuring Born and Shields nightswimming into uncharted waters, eventually deferring to Tommy Johnson's crestfallen trumpet, which said everything else that needed saying. How Kill Creek turned a trumpet-soled ballad into one of the most compelling musical statements of the year is anyone's guess, but in doing so, the band's quietest moment to date proved its most powerful.
mi6, "Lunchbox"
From the opening salvo of the title track, mi6's latest started good and stayed that way, a tour de force of back-to-back three-minute gems. "Lunchbox" wasn't original; it didn't pretend to be. Instead the band focused on sharp performances and unforgettable tunes, a one-two punch delivered with champion-like confidence. Revamped material ("Jeff Brown," "Lezbian Girlfriend") from the group's indie debut "Alcoholiday" was given an extra shot of adrenaline, sitting comfortably alongside strident new stuff. With "Lunchbox," mi6 eschewed experimentation and art-rock pretension in favor of fat-free tunes that just wanted to rock, no strings (or horns) attached. Even the acoustic guitar that began "1-900" was quickly trounced by the band's wooly-mammoth roar as if the group couldn't resist taking a would-be reflective moment and rocking it all to hell. A lot of that has to do with drummer Jimmy Coles, whose deft intricacies sounded something like Stewart Copeland on a triple espresso. Whether mi6 will ever earn the respect it deserves remains to be seen, but with "Lunchbox," the band stepped up its game in a big way, playing "dumb" music that demanded to be taken seriously.
Shiner, "The Egg"
"The Truth About Cows," the stormy number that opened Shiner's latest effort perfectly captured everything the KC-based quartet does best: blow listeners heads off without embarrassing itself in the process. Heavy without being stupid and mathematical without being too smart, Shiner found just the balance on "The Egg." The lurching, geometrical spasms that concluded the almost Egyptian-flavored title track underscored the group's controlled sense of power, a robust wall-of-sound with its own remote control. Frontman Allen Epley's raspy bellow-to-falsetto voice was fluid enough to follow (and often lead) the band's set-to-stun riffage. Also at the forefront was uber-drummer Jason Gerken, whose machine-like precision and mind blowing technique fueled the outfit's dynamic swooshes. "It's the best thing we've done as a band with any of the lineups," Epley affirmed at the time of "The Egg's release ("The enigma machine," Oct. 4). "It's a pretty good reflection of where we're at, or where we were at a year ago when we began writing. We love it. It's weird because so often somebody hates it in the band, or somebody doesn't like some of it. But we were all like, 'Hey.'"
Copyright 2018 The Lawrence Journal-World. All rights reserved. This material may not be published, broadcast, rewritten or redistributed. We strive to uphold our values for every story published.