"Sticks of Thunder" isn't the type of event people associate with the staid, renovated Union Station in Kansas City, Mo. For better or worse, the emphasis at the station has been on making any visit there enlightening and educational which some people associate with boring.
Yet, while the building is home to permanent features like Science City and traveling exhibits featuring sunken ocean liners and T-rex. dinosaur bones, it also houses what must be the hippest house band ever to play a national landmark. "Sticks" rocks and shocks audiences with pounding percussion work, something band member Lupe Munoz relishes.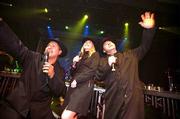 "Audiences never know what to expect, but they leave pumped up," Munoz says.
The band hands out drum sticks and ear plugs to audience members as they fill the house, so those attending can jam along and save their ear drums, simultaneously. Munoz will admit that it is somewhat educational. They play and demonstrate a variety of jazz, blues, Caribbean, rock and funk styles, but for the band it's all about pounding beats in tight, syncopated rhythms.
They do it all with drums, timpani and marimbas. There is no horn section and no guitars.
"We play a huge, huge variety of music. There is no chance to get bored," Munoz says. "It's all percussion anything you can bang on we have onstage."
Along with Munoz, who also handles vocal duties, the band features Mollie Weaver, who takes on lead vocals with a five-octave range, and Terry Hancock, who has toured and played with everyone from Travis Tritt and Conway Twitty to Chubby Checker and Peabo Bryson.
The band is composed of an eclectic mix of musicians who are at home anywhere, from county fairs to seedy jazz clubs. What gives them an ethereal spin is that the tight bunch of free-wheeling professionals fall under the scholastic lead of musical director Dennis Rogers, a maestro with 30 years experience teaching music and percussion throughout Missouri. It's an unholy alliance that probably has jazz musicians everywhere trembling, but it works for "Sticks."
"Any ensemble that plays can get lazy after a while, but Dennis makes us go over things to refresh ourselves and creates an environment of creativity," Munoz says.
The onsite leader is Munoz, who has a reputation for playing about everywhere in the Kansas City metro area.
"I'm the king of house gigs," he says laughing.
"Sticks" starts off each evening performance with four musicians pounding out island rhythms on steel drums, before switching gears to a simple snare drum solo, followed by jazz ensemble play featuring three-part vocal harmonies.
"If it's a happy, happy audience then we have a happy, happy night," he says. "If we're on a roll, it goes longer. If you've got the audience then you've got them. We dance, sing, do comedy. It involves people a lot."
It seems like it should not work rowdy jazz players don't mix with education and museums. But what was a three-month probationary period has turned into a nine-month gig for the band. What makes the story even stranger is that the band's roots lie in playing exclusive corporate meetings.
It makes sense when Munoz explains it.
"We're used to waking people up at all those boring 8 a.m. business sessions, when people need to get pumped up," he says. "We told them we have just the thing to get people pumped up at (those type of) company events."
"Sticks" was the brainchild of producer Curtis Pickering, who had booked the group at exclusive and lucrative business gigs for several years. All the while, though, he was searching for a larger, more permanent audience venue.
"Curtis thought about it for a long time. He wanted to find a theater that we could go into," Munoz says. "He wanted us to be like 'Stomp' or one of those shows."
Copyright 2018 The Lawrence Journal-World. All rights reserved. This material may not be published, broadcast, rewritten or redistributed. We strive to uphold our values for every story published.