Boston — Paul Pierce needed a little time to find his range against the Denver Nuggets.
Pierce scored 21 of his 35 points in the third quarter and Antoine Walker added 28 to lead the Boston Celtics to their fifth straight victory, 95-80 over Denver on Wednesday night.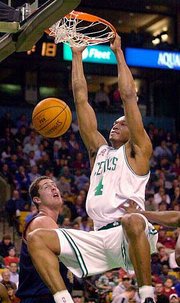 Pierce outscored the Nuggets by five points in the third period as the Celtics extended a seven-point lead to 22.
"Offensively, he's playing so well," Boston point guard Kenny Anderson said. "He's a great shooter and is definitely one of the top three scorers in the league."
Boston is on its longest winning streak since taking six straight Jan. 23-Feb. 4. Denver has lost six of seven overall and six straight against Boston.
"We don't have enough firepower to score enough," Denver coach Dan Issel said.
Pierce was held to just four points until he banked in a desperation half-court heave as time expired in the first quarter. Pierce then scored Boston's first six points of the second quarter before breaking the game open in the third.
After Anderson's jumper gave the Celtics a nine-point lead early in the second half, Pierce scored 18 of Boston's next 20 points. Pierce, second in the league in scoring to Allen Iverson, hit a 30-footer as time expired in the period to give Boston an 82-60 lead.
"Paul has really blossomed since he came into the league," said Raef LaFrentz, who played with Pierce for three seasons in college at Kansas. "His game fits the NBA style to a tee and from what I've seen this is just the tip of the iceberg for him."
Pierce was lifted midway through the fourth with the Celtics ahead 91-72.
The Celtics improved to 10-6, their best start since the 1991-92 season, when they were 14-6.
"We feel like the East is wide open and there's really no dominant team out there," Pierce said. "Our goal coming into the season was to make the playoffs. As the year goes on, it raises our goals to win the East and get homecourt advantage. But we've still got a long way to go and we can't get too excited yet."
Avery Johnson and Nick Van Exel each had 16 points for the Nuggets. Joe Johnson added 10 points and six rebounds for Boston.
The Celtics took a 51-42 lead, their largest lead of the first half, on Johnson's jumper with 45 seconds left in the second quarter.
Pistons 95, Sonics 91
Auburn Hills, Mich. Chucky Atkins scored 23 points and Jerry Stackhouse added 19 points and 11 assists in Detroit's victory over Seattle. Stackhouse matched his career high in assists, but his biggest play was a game-tying three-pointer with two minutes to play.
Corliss Williamson added 17 points for Detroit, 10 in the fourth quarter.
Gary Payton had his 13th career triple-double for Seattle with 21 points, 15 rebounds and 12 assists, and Rashard Lewis added 21 points before fouling out.
Detroit has won seven of the last nine meetings between the teams. The Sonics lost their third straight on the road.
Seattle led 19-5, but the Pistons pulled to 49-47 at the half. Detroit's final two points came when Jon Barry rebounded Stackhouse's miss and hit an arching jumper at the buzzer.
Magic 102, Bulls 74
Orlando, Fla. Mike Miller scored 21 points and rookie Steve Hunter had a career-high 17 as Orlando beat Chicago. Miller and Hunter were a combined 15-of-20 from the field as the Magic shot 50 percent and finished 8-of-21 from three-point range.
Orlando has won three straight the last two games by a combined 70 points following a three-game losing streak.
Tracy McGrady had 14 points in 27 minutes, and Pat Garrity added 11 points in a reserve role.
Orlando took a 46-26 lead on Garrity's three-pointer midway through the second quarter, and pushed the advantage to 30 at 81-51, on Hunter's tip with 3:37 remaining in the third. Andrew DeClercq put Orlando ahead by 40 98-58 with a dunk in the fourth.
Nets 106, Suns 87
East Rutherford, N.J. Jason Kidd was at his unselfish best in his first game against his former team, accumulating 11 of his 12 assists before he even scored a point as New Jersey beat Phoenix. Repeatedly setting up teammates for easy baskets and playing the role of the quintessential playmaker, Kidd's passing helped the Nets open a 69-54 lead before he hit a three-pointer with 4:15 left in the third.
Spurs 120, Hawks 112
Atlanta Steve Smith scored 29 points for San Antonio, which built a 20-point lead in the first quarter and held on for a victory over Atlanta. San Antonio, which played the previous night at home, hardly looked tired in the opening period. The Spurs dominated the Hawks with superb ball movement, setting up open shots all over the court.
They lived up to their billing as the best three-point shooting team in the league. San Antonio was 14-of-20 to improve on an already impressive 43.2 season percentage.
Lakers 98, Mavericks 94
Los Angeles Shaquille O'Neal scored 46 points and Rick Fox made four free throws in the final 20 seconds as Los Angeles held off Dallas to run its record to 16-1. The Lakers, who have gone 39-2 dating to the final eight games of the last regular season and the playoffs, trailed much of the game against the Mavericks.
Fox gave Los Angeles a 94-92 lead with his two free throws with 20 seconds remaining, then made it 96-92 with another pair, with nine seconds left. After Adrian Griffin scored on a layup for Dallas the Mavericks only basket in the final 6:49 Kobe Bryant took a long pass and made a reverse slam to punctuate the victory.
Warriors 93, 76ers 87
Oakland, Calif. Larry Hughes scored 22 points against his former team, and Danny Fortson had 11 points and 15 rebounds as Golden State snapped a four-game losing streak. Antawn Jamison scored 19 points as the Warriors ended a string of six straight losses to the 76ers by holding off Philadelphia throughout a close fourth quarter. Golden State's impressive effort against the Eastern Conference champions thrilled the normally somber Oakland crowd.
Copyright 2018 The Associated Press. All rights reserved. This material may not be published, broadcast, rewritten or redistributed. We strive to uphold our values for every story published.