One coaching search ends and another begins.
While Kansas University has found a head football coach in Mark Mangino, now Mangino has to find assistant coaches to fill his staff.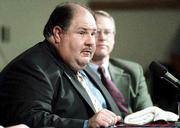 "I'm in the process of putting together a staff," Mangino said. "We will have some people in place shortly, but I don't feel rushed to put all nine guys together quickly. The most important thing you do as a new head coach is to assemble a quality staff and I want to make sure that I get the right people."
Mangino received that advice from his former boss, Oklahoma coach Bob Stoops, who heard the same words of wisdom from his former boss, Florida coach Steve Spurrier. Mangino might want to take his time hiring coaches, but he wasted no time contacting possible coordinators.
Mangino approached Miami defensive backs coach Mark Stoops Bob Stoops' younger brother and Mississippi offensive coordinator/offensive line coach John Latina about being KU's defensive and offensive coordinators respectively, a source told the Journal-World on Wednesday.
It wasn't clear whether the coaches were interested and Mangino has been mum about possible assistants.
"I'm going to hire coordinators that would fit what I would like to have," Mangino said. "I'm not going to mandate every single facet of defensive or offensive play, although I will keep a hand in it on both sides of the ball. Certainly. I think all good head coaches do that."
Kansas State tight ends coach Matt Miller, the Wildcats' starting quarterback during their 10-2 season in 1995, might be reunited with his former coach as the Jayhawks' QB coach, another source said.
It's been speculated that two OU coaches who potentially could follow Mangino to Kansas are running backs coach Cale Gundy and wide receivers coach Steve Spurrier Jr. Both worked closely with Mangino in his role as the Sooners' assistant head coach/offensive coordinator.
A coach who has expressed interest in joining the Jayhawks is Olathe North High head coach Gene Wier. In addition to directing the Eagles to five of the last six Class 6A state championships, Wier also has served as president of the Greater Kansas City Football Coaches Assn.
"Yeah, I would be interested. I've said that publicly," said Wier, whose son, Brandon, was one of the Jayhawks' senior co-captains this season. "I'm not actively looking for anything, but it's a place I would want to be."
Wier said he hasn't "officially" been contacted.
Two other high school coaches in the area Blue Springs (Mo.) coach Kelly Donohoe and Holton coach Brooks Barta also might be asked to join the Jayhawks. Donohoe is a former KU quarterback while Barta played linebacker at K-State while Mangino was there.
At least two current Kansas assistants hope to be included on Mangino's staff.
"Me personally, as always, Kansas is the No. 1 job in the world for me," said tight ends/special teams coach Clint Bowen, who has known Mangino since being recruited by him for K-State. "This is my dream job. I got to have it for a while and I'd be very interested in staying at KU. That's where I want to be and where I want to coach and I hope things work out."
Bowen, who played for both Lawrence High and the Jayhawks, was a graduate assistant at KU and Minnesota as well as head coach of the Topeka Knights for a season in 1999.
Another aide hoping to remain at Kansas is defensive line coach Travis Jones.
"I think (KU athletics director) Dr. (Al) Bohl did a really good job with the selection," Jones said. "Obviously coach Mangino has had quite a bit of success every place he's been and coached. Like he said, he's been tutored by some of the best in the game in coach Snyder and coach Stoops. That background brings a lot to a place."
Jones just completed his first year with the Jayhawks after serving as linebackers coach/recruiting coordinator at Appalachian State from 1998-2000. Prior to that he was defensive line coach for a year at Georgia, where he was a two-year starter at defensive tackle.
Mangino met individually with the current staff Wednesday afternoon, either by phone or in his new office. He hasn't made it clear how many if any holdovers there might be, but new coaches traditionally keep at least one coach from the former staff to help ease the transition.
Mangino, who didn't join the Sooners until a few weeks after Stoops was hired, said he's setting no deadlines for himself.
"I'm going to make sure that I get the right people and I'm really comfortable with them," Mangino said, "so I'm not setting any parameters or putting any timetable on that."
Copyright 2018 The Lawrence Journal-World. All rights reserved. This material may not be published, broadcast, rewritten or redistributed. We strive to uphold our values for every story published.