Some folks have shed wool sweaters and heavy coats for T-shirts and shorts the past few days, as record-high temperatures have swept through Lawrence.
But the end of balmy weather is in sight. Meteorologists expect weekend temperatures to dip into the 40s.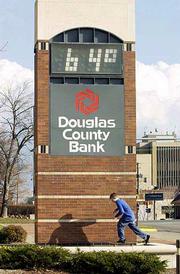 Tuesday and Wednesday were the warmest Dec. 4 and 5 ever recorded for the city. Tuesday's high of 73 broke a record of 69 set in 1946, said Christine Smith with WeatherData, a private forecasting service in Wichita. And Wednesday's 73-degree day broke a 1980 record of 70.
Upper 30s to mid-40s are normal temperatures for December, Smith said.
Lawrence resident Eric Self was taking advantage of Wednesday's warm temperatures, completing a project he's surprised December weather is allowing him to finish.
"I've been building a shed in my yard," he said. "It's something I've been putting off."
Smith attributed the warmer-than-normal temperatures to a northern jet stream that's keeping its distance from Kansas.
"This year, it's staying very far north, so it's not allowing air from Canada to move south," she said. "That's why we've been so warm."
But light jackets may be in order for today and Friday. Smith predicts temperatures in the 50s, dropping to the upper 40s Saturday and Sunday.
Copyright 2018 The Lawrence Journal-World. All rights reserved. This material may not be published, broadcast, rewritten or redistributed. We strive to uphold our values for every story published.