Allen Toshavik said it all started around 1 or 2 in the morning. That's when he and John McGautha decided to go see a woman named Rachel.
To get to Rachel's place, they needed to borrow Ronnell McGautha's car. But Ronnell said no, and he wouldn't drive them there, either.
After that, an argument broke out between Toshavik, 18, and the McGautha brothers. When it was over, Toshavik had been shot twice once in the back, once in the neck a few inches below his left ear.
Testifying Tuesday in Douglas County District Court, Toshavik said he didn't see the shots fired he was too busy running but he's fairly certain that it was John McGautha.
He'd seen John McGautha, then 17, holding a .22 caliber pistol a few seconds earlier while standing on the sidewalk outside Toshavik's grandparents' house in east Lawrence. Ronnell McGautha, Toshavik said, was holding a baseball bat.
John McGautha is charged with attempted first-degree murder. His trial started Tuesday.
The July 17, 2000, shooting left Toshavik paralyzed from the neck down. A ventilator regulates his breathing.
Much of Toshavik's testimony was difficult to understand as he tried to string together more words than the ventilator would support.
Propped up in a wheelchair, Toshavik said he drank a 12-pack of Colt .45 malt liquor before the argument broke out. The McGautha brothers, he said, had put away a 30-pack of Miller Highlife beer.
"We was drunk," Toshavik said.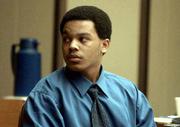 He denied earlier reports that he and the others had been smoking "wets," a term for marijuana cigarettes dipped in PCP, formaldehyde or embalming fluid for increased potency.
"Man, I don't think any of us was smoking weed that night," Toshavik said, responding to a question from John McGautha's attorney, Michael Dunalewicz.
To prove his point, Toshavik said he'd gotten out of jail the night before the shooting and hadn't had time to buy drugs.
According to police reports, Toshavik was shot at about 6:45 a.m. near 1404 E. 15th Street.
Until the shooting, Toshavik said, he and Ronnell McGautha had been good friends.
"I went to school with Ronnell," he said.
Toshavik said the argument was "over nothing" and got out of hand after he and the brothers threatened each other. At one point, he said, one of the McGauthas called him a "player hater," a disparaging term, and he assured the brothers they'd "get their asses whipped."
The trial, which began Monday, resumes today at 9 a.m. It is expected to continue through Friday.
Copyright 2018 The Lawrence Journal-World. All rights reserved. This material may not be published, broadcast, rewritten or redistributed. We strive to uphold our values for every story published.