When Kansas University athletics director Al Bohl began his search for a new football coach, he said he wanted someone who could lead the Jayhawks to a Big 12 championship.
A month later, Bohl is confident he's found his man.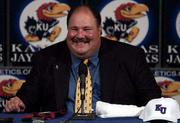 "Our goal is to be the best in the Big 12," Mark Mangino declared Tuesday afternoon shortly after being introduced as KU's 35th head football coach. "I can't just sit here and say we're going to be the dominant team in the state or the dominant team in the North (Division). We're setting our goals lofty here.
"We want to work our way to be the best team in the Big 12."
Flanked by Bohl and KU Chancellor Robert Hemenway, Mangino addressed the Kansas media, players, KU alumni and colleagues during a 40-minute news conference in front of a standing-room-only crowd at Hadl Auditorium.
Dedication to players
It was both the way he handled himself in his interviews and his experience as a coach that made him attractive to KU, Hemenway said.
"The appointment of Mark Mangino as head football coach at the University of Kansas represents a meaningful step forward in the resurgence of our program," Hemenway said. "Mark has a great record, not only as a successful coach but someone who has integrity and is committed to helping student-athletes on and off the field of competition."
Dedication to players caused Mangino to withdraw his name from consideration during the weekend.
An eight-year assistant at Kansas State before spending the past three seasons as assistant head coach/offensive coordinator at Oklahoma, Mangino said he was afraid the KU search process would take too long and his candidacy would hurt the Sooners' effort with recruiting. So Mangino, 45, pulled out and began to concentrate on recruiting and preparing for OU's upcoming bowl game.
"At that time I had every intention of staying at the University of Oklahoma," Mangino said. "But Dr. Bohl and Dr. Hemenway called me the next day, we had a compelling discussion, we were all on the same page and I really believed what they had to say and really believed the University of Kansas was the place for me."
A successful head coach
Bohl's top task when he was hired in July to replace Bob Frederick was to rebuild the Jayhawks' football program. So it hardly was a surprise when Bohl fired Terry Allen on Nov. 4 with three games remaining in Kansas' season. Allen had a won-loss record of 20-33 and didn't reach a bowl game in four-plus seasons at KU.
Bohl quickly assembled a 16-person search committee.
"I want to tell you, there were so many times I listened to him and I heard the same things I hear from (KU men's basketball coach) Roy Williams the players come first in my program, we're going to build this program with the players that are there right now. All those kinds of things," said associate athletics director/administration Richard Konzem, who was on the committee.
Bohl's involvement increased after the panel narrowed the field to four to six candidates, whom Bohl would not identify. He, too, liked what he heard from Mangino.
"After we go through that process, I make it a point to basically go grill the coach," Bohl said. "When I sat down and talked to him, I found out this person knows a lot about football. It was during that second go-around that I realized he's really been preparing himself not to be a head coach, but to be a successful head coach."
'Perfect for me'
Mangino received a five-year deal with a base salary of $128,438. If he meets incentives ranging from graduation rates to attendance, his total package could pay him close to $1 million a season, Bohl said. Mangino earned $141,000 a season at OU.
Mangino certainly has been around some successful programs. In three seasons with the Sooners, he helped OU to a 30-7 overall mark, including a national championship last season.
Prior to moving to Norman, Okla., Mangino spent eight seasons at Kansas State, serving as assistant head coach, running game coordinator and assistant coach during his tenure.
"We have so many friends in northeast Kansas and around the state of Kansas and Kansas City that I'm not going to a strange place," Mangino said. "I'm going to familiar surroundings, and that's what makes this thing even more special to me.
"This is perfect for me. I couldn't be happier. I feel that I'm just flat-out fortunate to have the opportunity here."
Copyright 2018 The Lawrence Journal-World. All rights reserved. This material may not be published, broadcast, rewritten or redistributed. We strive to uphold our values for every story published.